Advocacy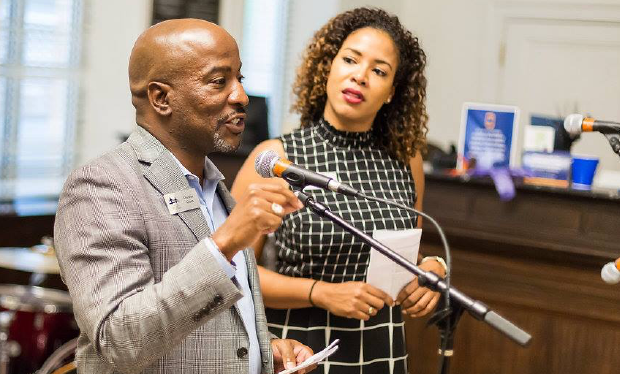 Our strategies to advance the long-term success of our communities in coastal South Carolina have always included grantmaking to support regional nonprofits, incubating grassroots causes and facilitating solutions to community-wide problems. Now, we're adding advocacy to our toolbox as another way to address the challenges our residents face and spark the changes our communities need. We began these efforts in 2017 with community conversations to gather input from residents, and crafted a Civic Engagement Agenda outlining the greatest needs for structural and societal changes. In 2020, we introduced our first-ever Policy Agenda to advocate for policies that address those needs.
Civic Engagement Agenda
To understand our communities' needs, we turned to the people who know them best — the people living and working there every day. Since 2017, we have conducted dozens of roundtable discussions with small groups of residents across our nine-county service area to identify the common hopes, needs and challenges permeating daily life in this region. The input from nearly a thousand residents was validated with research conducted by USC Upstate's Metropolitan Studies Institute, which we reported in what we call the Civic Engagement Agenda. It crystallizes the systemic issues facing our communities and serves as a framework to guide how we work as community leaders, particularly through advocacy.
Three Themes
The Board of Directors has prioritized three themes that emerged in our Civic Engagement Agenda: Affordable Places & Inclusive Spaces, Access to Economic Opportunity and Education. They're all interconnected, with one problem unlikely to be solved until the others are addressed as well. That's why we're focusing on them together, working to educate ourselves and our stakeholders about the nuanced ways they collide and affect the quality of life for everyone throughout our service area.
Statement of Equity and Inclusion
The Civic Engagement Agenda emphasizes that social and racial inequity is a factor — and in many cases a driving force — of the issues we're experiencing as a region. That's particularly true when it comes to housing, economic opportunity and education. To achieve community-wide success on these or any other issues, we must remove the imbalances and systemic racial barriers that keep us separate and inequitable. Therefore, any approaches we take moving forward will each be tailored to advance equity and lift up those who have historically been left out.
Affordable Places & Inclusive Spaces
As housing prices in our region rise, it's becoming increasingly difficult for individuals and families to find affordable places to live and achieve home ownership.

After CCF discussed housing costs with community members, further analysis revealed that between 2012-2016, the majority of households in our service area are spending more than a third of their household income on housing expenses, and since many also are commuting further to get their jobs, their transportation costs eat up another major chunk of their income. Ultimately, that means people have less to spend on things like childcare, healthcare and essential needs.
Access to Opportunity
While many of South Carolina's coastal places are thriving economically, many communities — and particularly communities of color — are not sharing in the success. Nearly a third of the people we spoke to during our community conversations said access to economic opportunity is one of their main concerns, which is why it's one of the three top focus areas in our Civic Engagement Agenda.

Commuting patterns across our nine-county service region revealed that only the most heavily populated areas offer enough employment options for people to work where they live. People without employment or affordable housing options in their communities are then forced to spend more time and money commuting, putting strains on families, their finances and their capacity to truly participate in the communities where they live.

At the same time, each corner of our service area is expecting employment growth over the next five years. However, given that African-Americans are twice as likely to be unemployed in South Carolina than white and Hispanic workers, clearly more needs to be done to ensure all people are equally equipped and considered for new jobs.
Access to Education
Education is the fundamental building block of a successful community. By providing high-quality public education to all children, we grow vibrant and diverse communities with thriving local economies.

In South Carolina, more than 40 percent of residents age 25 and older have a high school diploma or less, an education level directly linked to low earnings and risk of poverty. To improve the quality of life for all residents, public education in South Carolina must be reformed and improved.
2020 Policy Agenda
With our Policy Agenda, we aim to educate the general public, our donors, nonprofit partners and policymakers about the issues we've identified in our Civic Engagement Agenda and policy measures that address them. We are also inspired to advocate for the well-being of the community foundation sector to sustain our work in communities.
Philanthropy
Endowed Philanthropy
Endowments are an essential tool to generate long-term response and support for communities that seek to address complex challenges. As firm believers in providing the necessary resources in perpetuity, Coastal Community Foundation supports efforts that keep current law and tax codes in force to sustain endowed philanthropy.

Universal Charitable Deduction
The Tax Cuts and Jobs Act of 2017 brought changes that diminished the incentive for most taxpayers to itemize their charitable contributions on their personal income taxes. With middle-class families primarily affected by the change, the Foundation supports passage of public policy that encourages charitable giving and recognition for all taxpayers.
Affordable Places & Inclusive Spaces
Inclusionary Zoning
When new housing developments are built in growing areas, there is a need to ensure developers include units that are affordable to existing residents of those communities. Coastal Community Foundation supports enabling municipalities to incorporate inclusionary zoning in their array of strategies to address affordable housing shortages in their communities.

Opportunity Zones Enhancement
New developments in federally-designated Opportunity Zones are designed to spark revitalization in low-income areas. Additional state tax incentives would further encourage economic developments that benefit the existing community, which is a long-term goal of Coastal Community Foundation.
Access to Economic Opportunity
SC Community Development Tax Credit
Community development corporations (CDCs) and financial institutions (CDFIs) support economic development in low income communities and this tax credit incentivizes taxpayers to invest into CDCs and CDFIs. Coastal Community Foundation supports the expansion of the available credits to expand opportunities for economic development.

High-cost, Small-loan Lending
Predatory and high-cost lending practices within low-income communities fuel racial and ethnic wealth gaps in our region. Coastal Community Foundation supports efforts to provide alternative banking solutions to low-income communities.
Education
Education Reform
As the educational needs of our communities surface, Coastal Community Foundation is committed to supporting efforts that provide equitable resources to all children in South Carolina. These efforts include, but are not limited to: education funding reform, teacher recruitment and retention, early childhood education, and more.

Schools of Innovation
Coastal Community Foundation supports increasing the number of Schools of Innovation allowed to operate in each South Carolina school district to provide new, innovative and flexible ways of educating children. Read our policy model of how this can advance equitable education in South Carolina schools. See our Innovation Schools Policy Model.