Social Venture Partners Charleston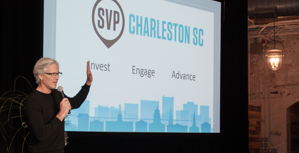 Social Venture Partners Charleston is a strategic partner, program and fund of Coastal Community Foundation that connects and invests in people and local nonprofit organizations to co-create a sustainable and equitable community. The model combines financial support with consulting and mentorship to help nonprofits fulfill their missions, operate effectively and scale for greater impact. The concept of a venture philanthropy group in Charleston originated at Coastal Community Foundation and was established by CCF leadership and donors in 2009. A few years later, the decision was made to affiliate the group with Social Venture Partners International, thus creating Social Venture Partners Charleston.
The purpose of SVP Charleston
Social Venture Partners Charleston is led by a group of local investors (Partners) who strive to create a network of stronger, more sustainable nonprofits by providing financial support as well as operational capacity-building support over an extended period of time. Partners pool annual contributions and impart their experiences and expertise as consultants, facilitators and advisors to nonprofit investees.
Since 2010, SVP Charleston has partnered with more than 30 local nonprofits, invested more than $1 million and provided thousands of hours of pro-bono consulting, organizational support and leadership coaching to nonprofit leaders.
Learn more about SVP Charleston, investment opportunities.
About Social Venture Partners International
Social Venture Partners (SVP) is both global and local. With over 3,400 partners globally in 40+ SVP Affiliates in 9 countries, SVP is the largest network in the world of engaged donors committed to this model of venture philanthropy strategies. Collectively, more than $70 Million has been invested in/granted to 900+ nonprofits and provided capacity-building support to over 3,000 nonprofits.