Being "the reason why" is a big motivator for many CCF supporters. One of the reasons we hear people support our work is the measurable impact their combined resources make right in their own communities – even neighborhoods.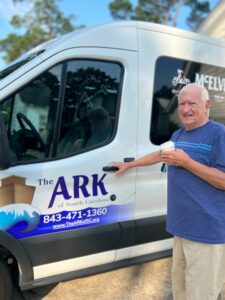 Established in 2010, the Dorchester County Fund is an example of the major impact a collection of individuals can have on their neighbors. Since its inception, the fund has awarded $163,481 to non-profits serving the county. That is thanks entirely to 116 community members whose collective generosity has set aside $480,915 to meet local needs. (The Fund welcomes new donors – individuals, families or businesses – who wish to co-invest in their community. https://coastal.fcsuite.com/erp/donate/create/fund?funit_id=1109.)
One such organization is ARK of SC, a non-profit that supports families impacted by Alzheimer's and dementia. The ARK funds quality respite care, support groups, screenings and more. It also connects individuals to programs via a bus that ensures more people can be served throughout the county.
In reality, South Carolina has the fifth highest Alzheimer's death rate in America. Connecting families and loved ones to quality care and support can go a long way toward improving quality of life – for all.
To date 39 non-profits serving Dorchester County have been supported by the Fund. Of those dollars, 75% have been invested in health and human needs, and 18% in education.