Disaster Relief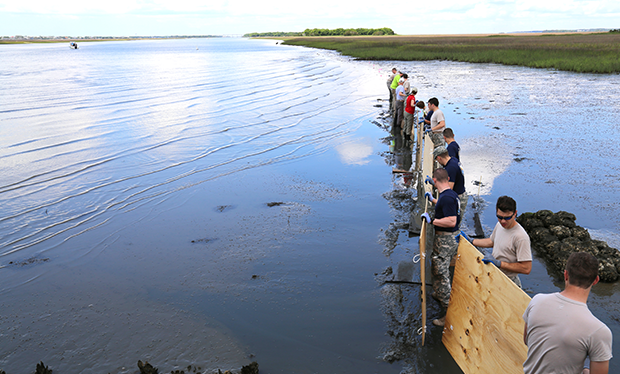 Coastal Community Foundation serves an essential function in times of need. In the wake of natural disasters or other events with widespread ramifications, demand on nonprofit services tends to soar. And while charitable giving often spikes, too, donors don't always know which organizations are serving the greatest needs at the time. Coastal Community Foundation helps bridge that gap by quickly setting up a link between donors and the specific causes that need them most.
With our Lowcountry Disaster Relief Fund, Coastal Community Foundation has a unique ability to be responsive to our local service area if and when relief is needed in any of our nine coastal counties in South Carolina in the wake of a disaster. We are among the official Volunteer Organizations Assisting with Disaster Relief (VOADs), so we are always working in collaboration with and supporting organizations on the ground.
This disaster relief fund was formed after Hurricane Florence devastated Horry and Georgetown counties in 2018. The funds have assisted the recovery efforts by our supporting organization, Waccamaw Community Foundation, based in Murrells Inlet. However, CCF's Lowcountry Disaster Relief Fund remains open and continues to accept donations to assist in the response and recovery of any disasters effecting our region, which also includes Beaufort, Berkeley, Charleston, Colleton, Dorchester, Hampton and Jasper counties.
For instance, recovery work is still being conducted in response to the 2015 South Carolina floods and Hurricane Matthew. This fund is designed to support long-term recovery efforts such as these, as well as immediate relief efforts. This fund will also be focused on long-term investments such as infrastructure and housing, which are critical needs for our coastal communities, especially for rural neighbors, families in poverty and senior citizens.
Donating to the Lowcountry Disaster Relief Fund
Current Fundholders
Current fund holders, if you would like to direct a grant to this fund, contact Edie Blakeslee at edie@coastalcommunityfoundation.org.
Non-fundholders
Anyone can donate directly to the CCF Fund by entering the following information on our donation form.
In the "comments" section you may designate a specific location (northern SC counties) or you may designate to the Lowcountry Disaster Relief Fund and your donation will be allocated accordingly.