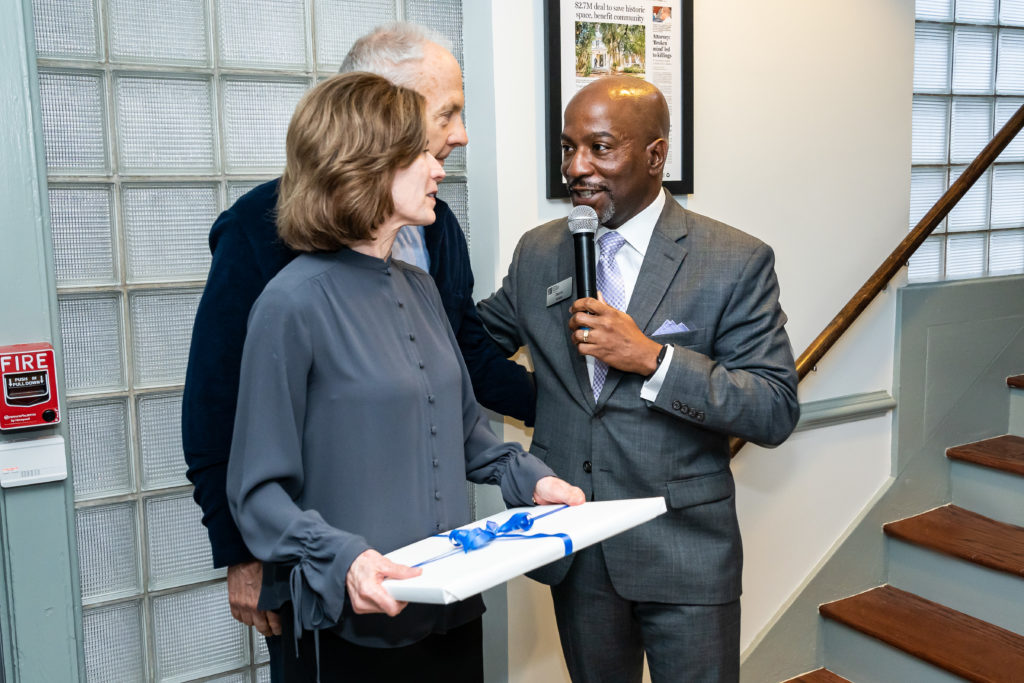 In May 2019, Coastal Community Foundation purchased its first office building with a generous gift from Charleston real estate investor Frank Haygood and his wife, Kristi Haygood. In honor of their support, the Coastal Community Foundation headquarters at 1691 Turnbull Avenue in North Charleston is named the D. Frank and Kristi K. Haygood Building.
Frank and Kristi owned the Rutledge Avenue office property where CCF was based for 10 years until moving to its new location. When given the opportunity to help CCF find a new home, the Haygood's, as longtime friends, worked closely with CCF to find the right opportunity.
Frank Haygood has developed shopping centers, suburban office parks and industrial distribution centers and repurposed buildings on the Charleston Peninsula to provide office space for nonprofit organizations and high-growth technology firms. Kristi has a master's degree in education, and after a stint teaching in the public school system, she transitioned to the interior design field with projects including Kiawah homes and downtown Charleston historic properties.
Frank and Kristi are frequent supporters of community causes in the Charleston region. Frank is a longstanding Partner of Social Venture Partners Charleston, a program and fund of Coastal Community Foundation that combines financial support with consulting and mentorship to help nonprofits scale for greater impact. His board service includes the Charleston Low Line Linear Pathway, the Center for Birds of Prey, Charleston Area Therapeutic Riding and The Humanities Foundation.
When CCF closed on the purchase of the new building, Frank said supporting Coastal Community Foundation was a valuable investment in our region.
We are passionate about all the good causes in the community, so many of which look to Coastal Community Foundation for guidance. We know supporting Coastal Community Foundation's mission is a very effective way to invest in our region's future.
—Frank Haygood
Coastal Community Foundation is proud to have completed renovations of the building in January 2020. Thank you, Frank and Kristi, for being the reason why we have a permanent home.