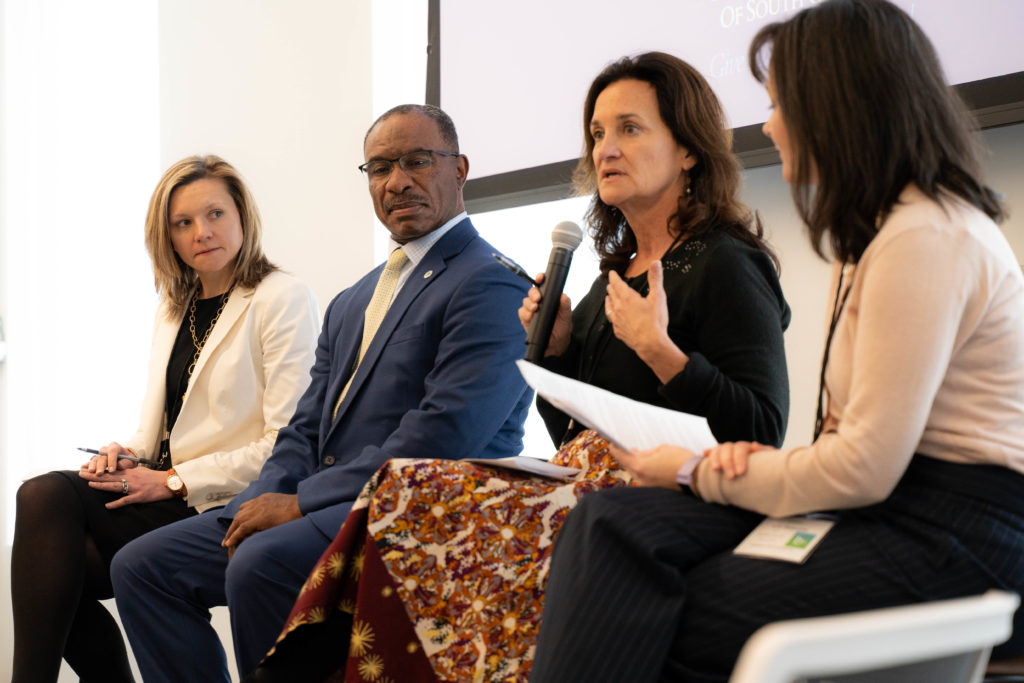 While many of South Carolina's coastal places are thriving economically, many communities—and particularly minorities —are not sharing in the success. That's what Coastal Community Foundation heard when we conducted dozens of small-group listening sessions across our nine-county service area last year.
Nearly a third of the people we spoke to during this process said access to economic opportunity is one of their main concerns, which is why it's one of the three top focus areas in our Civic Engagement Agenda. The others are affordable places & inclusive spaces and education.
In one community conversation, a man living on the East Side in downtown Charleston asked why natives of his neighborhood rarely have access to enough capital to invest in their own community projects, but outside developers do.
"I think that embodies the frustrations of the African-American community, especially those of us with an entrepreneurial spirit," he said.
The Civic Engagement Agenda crystallizes the systemic issues and inequities burdening our region and it will guide how we work as community leaders moving forward. This year, we've begun taking the first steps by engaging our donors and fund holders in conversation to share the wealth of knowledge we've gleaned over the past 18 months through our community conversations as well as through research conducted by USC Upstate's Metropolitan Studies Institute.
On Tuesday, March 19, CCF hosted the second Philanthropy Engagement Session to explore the topic of access to economic opportunity: the circumstances that exist throughout our region, and what we can do together to improve them. The event, sponsored by Blackbaud, was held in three strategic locations simultaneously across our service area to engage a range of our donors and localize the issue with different speaker panels of community stakeholders and experts.
We took this approach because we realize our large service area encompasses different communities with different needs, even if they're impacted by the same general issue.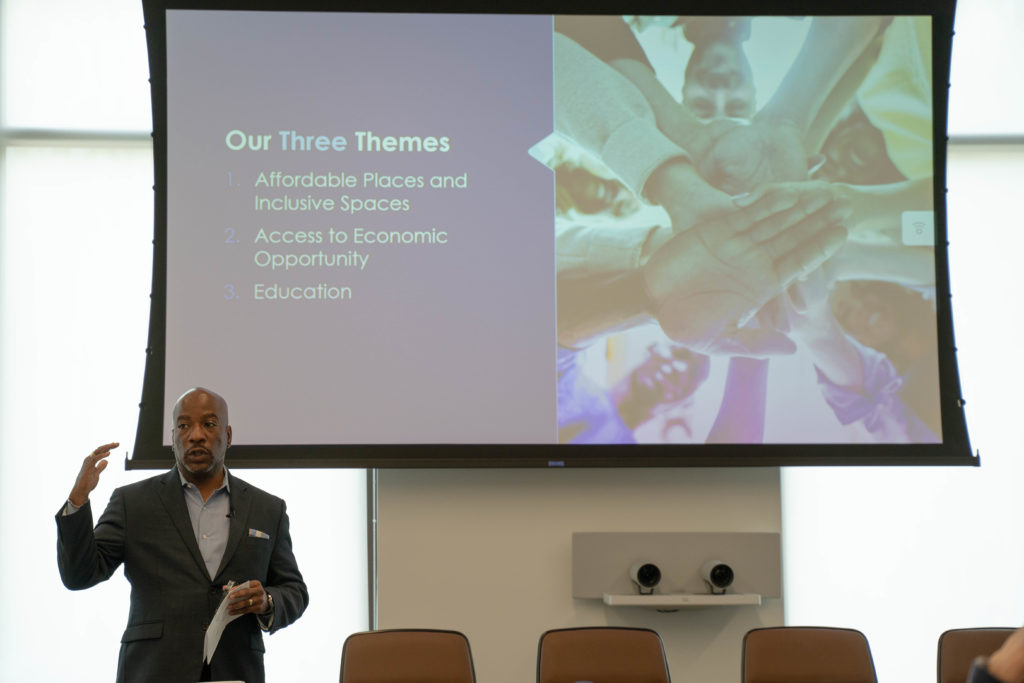 Events were held at USC-Beaufort, Waccamaw Community Foundation in Murrells Inlet and Blackbaud's World Headquarters on Daniel Island, where the first portion of the presentation was livestreamed to the other two locations.  The second half of the session was dedicated to a panel discussion with local experts. Insights from each location's event are detailed below.
President and CEO Darrin Goss and Vice President of Grantmaking & Community Leadership Edie Blakeslee began the session with an overview of the research that underscores the economic inequities in coastal South Carolina.
For instance, commuting patterns across our nine-county service region revealed that only the most heavily-populated areas offer enough employment options for people to work where they live. Berkeley, Dorchester and Jasper counties have a large percentage of residents who commute to work in other places, while Beaufort, Charleston, and Horry counties have a large portion of residents who live and work in the same county.
People without employment or affordable housing options in their communities are then forced to spend more time and money commuting, putting strains on families, their finances and their capacity to truly participate in the communities where they live.
At the same time, each corner of our service area is expecting employment growth over the next five years. However, given that African-Americans are twice as likely to be unemployed in South Carolina than white and Hispanic workers, clearly more needs to be done to ensure all people are equally equipped and considered for new jobs.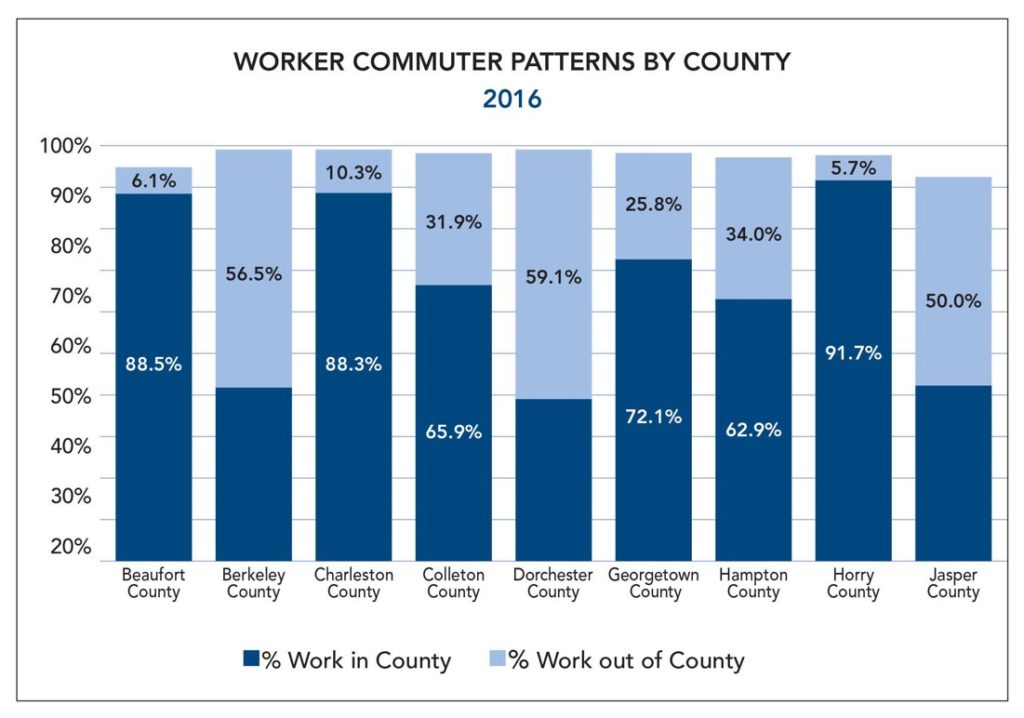 Those themes were further explored by the local panelists. While moderators' prompts were the same in each location, the discussions varied. One theme that consistently emerged was the rapid growth of South Carolina's coastal communities and how to ensure everyone reaps the benefits of those changes.
In the Charleston region, the speakers were Anna Lewin, CEO of the South Carolina Community Loan Fund; Bernie Mazyck, President and CEO of South Carolina Association for Community Economic Development and Jamee Haley, Executive Director of Lowcountry Local First.
The discussion centered on the policy and planning decisions needed to enhance the quality of life for people of all backgrounds as the region grows. They emphasized the role zoning rules play in securing inclusive and affordable places within hotbeds of economic activity. They also shared ideas on how to support minority-owned businesses and entrepreneurs by enhancing transportation options and access to resources and technical services.
In Murrells Inlet, the panelists were Sarah Smith, Executive Director of Waccamaw Regional Council of Governments and Pam Martin, Executive Director of Georgetown RISE. They discussed the limited availability of moderately-priced homes in comparison to the growing number of homes in the $250,000-$400,000 price range. In addition, they discussed the added and escalating costs of flood insurance, which the Federal Emergency Management Agency requires in the highest-risk areas.
The Waccamaw region of Horry and Georgetown counties faces the dual challenges of growth and affordability in certain places, while also grappling with access to capital and opportunity for lower income and rural populations. The same is true in the Southern Lowcountry counties of Beaufort, Colleton, Hampton and Jasper.
That reality drove the conversation in Beaufort, where the panel explored the systemic barriers to opportunity, such as credit scores and a lack of financial literacy. The panel in that region was comprised of Larry Holman, President & CEO of the Beaufort County Black Chamber of Commerce; Edward McKelvey, Senior Vice President of South State Bank who serves as a Community Reinvestment Act officer; and Kyle Player, Executive Director of the South Carolina Department of Agriculture's Agribusiness Center for Research and Entrepreneurship.
We thank our panelists in Charleston, Beaufort and Murrells Inlet for sharing their perspectives and expertise. We look forward to our next Philanthropy Engagement Session in May to explore the challenges facing our education system.