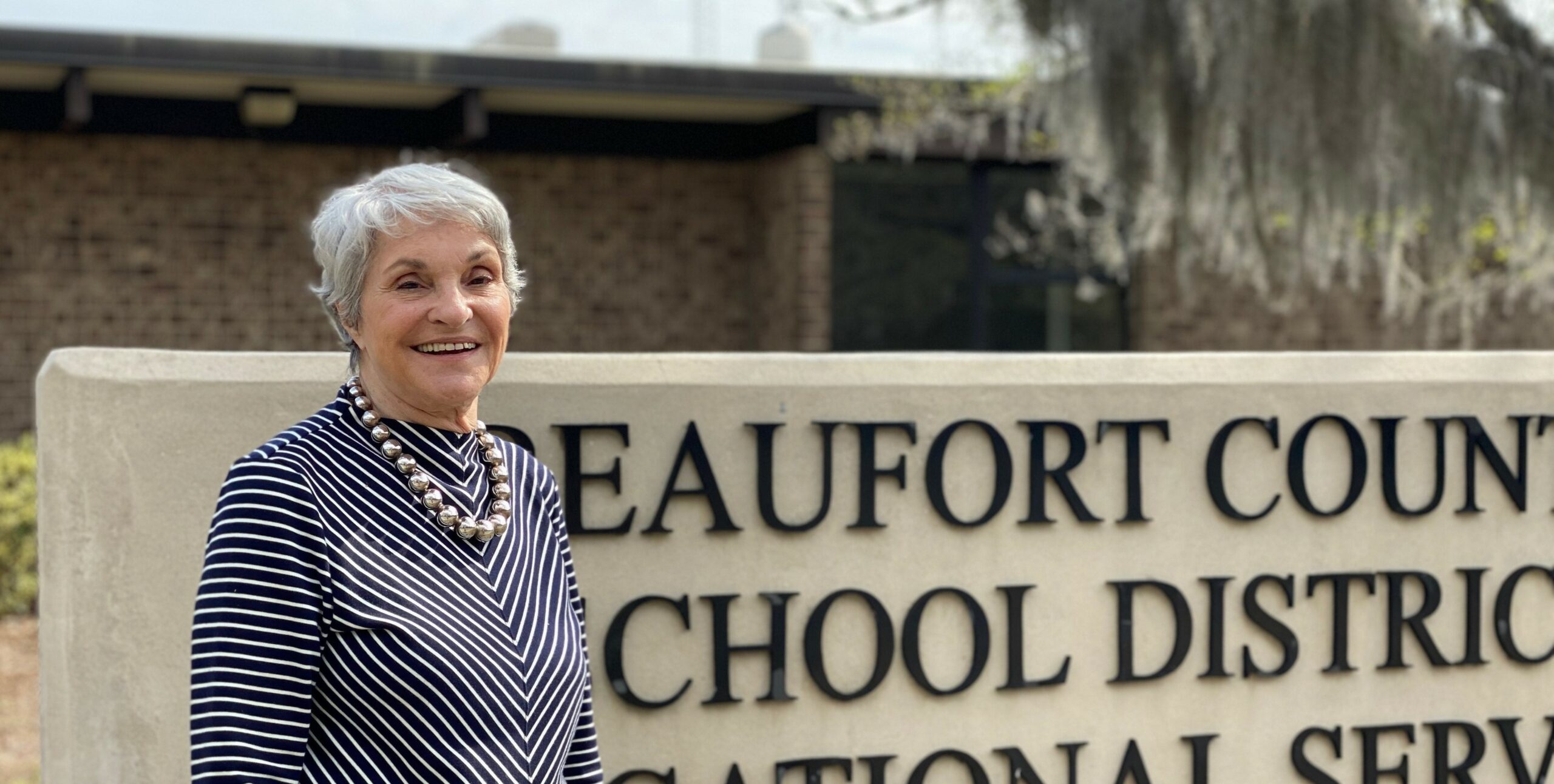 As schools moved classes online in response to the COVID-19 pandemic, the need became clearer than ever to ensure every household is equipped with broadband access. One Coastal Community Foundation donor is doing her part to meet that need in Beaufort County, with hopes that it will spark an expansion of broadband access across the region and the state.
Esther Shaver-Harnett recently retired to Beaufort County after owning and operating E Shaver Bookseller — a beloved bookstore in Savannah, Ga. — for more than 40 years. In the months following her retirement, she knew she wanted to continue having an impact on her community by supporting education through philanthropy, though she wasn't quite sure how.
"Books have been my life. From books, you have education. I had to find something that related to education, and somewhere, there was a need," she said.
After a happenstance run-in with a-Beaufort County School District official at a local nonprofit fundraiser, she had her "ah-ha" moment.  She learned students of the district are provided with technology including laptops to learn from home, but that not all students live in a home with internet access.
In fact, The Post and Courier recently reported that one in 10 households in South Carolina don't have adequate internet access, which includes an estimated 150,000 households with students at home. Nearly 7,000 are in Beaufort County.
Once she learned about the problem, Esther dedicated herself to the mission to provide Wi-Fi access to households with students. She just needed some support from experts to help make it happen, which is where Coastal Community Foundation came in.
She discovered CCF through a neighbor and learned that her dream was possible by setting up a charitable, designated fund at CCF that could support the purchase of mobile Wi-Fi devices for students of Beaufort County School District. In January, the Connected for Success Fund at CCF was born.
Over the next month, CCF staff worked with Beaufort County School District and purchased 100 Wi-Fi units through a company called Kajeet, which designs devices specifically for educational use. Each unit provides internet service for two years. By March, district employees were trained on how to use them and the devices were ready to be checked out by students.
Then, the unthinkable happened. The global coronavirus pandemic arrived in the United States, and Gov. Henry McMaster declared a state of emergency on March 13, a move that shut down public schools and instantly moved classrooms online.
Fortunately, all the Kajeet units were able to be quickly deployed to households that needed them.
"With the donated Kajeet internet units, not only is learning still happening, but students get to maintain their classroom community. The donation of Kajeet units has helped more students achieve access," said Melissa Murray, English/Language Arts Coordinator of Beaufort County School District.
In the months since the coronavirus outbreak, Esther has only become more committed to the cause. She's actively fundraising so the Connected for Success Fund can continue purchasing as many devices as the district needs.
"My goal is for every child to have internet access," she said.
With uncertainty about when students will be able to resume in-school learning, Esther is among many in South Carolina who are calling for swift solutions to ensure every household is equipped with tools to enable every student to continue learning online.
"It's always been a need, but now it's imperative," Esther said. "We don't know how long the children are going to be out of school, or whether there will be another outbreak. This is the only way children can continue to learn, by going to school online."
You can help Esther reach her goal by donating to the Connected for Success Fund online at coastalcommunityfoundation.org/donate. The secure payment form allows you to designate your donation to the Connected for Success Fund.
Gloria Duryea contributed to this story.