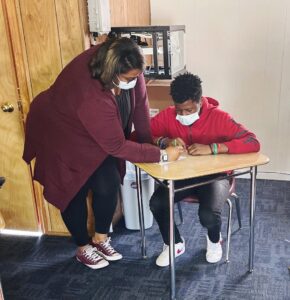 Creating communities rich in equity. That's the objective of the Coastal Community Foundation as it partners with organizations region-wide to make real differences in individual's lives.
The statistics are stark: poverty correlates with low education outcomes. Low-wealth communities often beget under-resourced schools, where overwhelmed teachers strive to reach their students and improve their prospects.
"Education is a key driver to economic mobility," says Edie Blakeslee, VP of Grantmaking & Community Leadership. "CCF's focus on lifting up rural education is completely in line with our desire to give community members a pathway to achieve their goals." Blakeslee notes that five years ago, when the Foundation conducted community forums up and down the coast, access to quality education was a top concern – "especially in rural areas."
CCF has identified a number of successful programs to bolster outcomes in the Southern Region (including Allendale County, which technically falls outside the region but is known to need innovative support). Here's a look at numerous rural education initiatives underway now:
A CCF Catalyst Grant is now supporting Teach for America teacher training. Long known for preparing college graduates to teach in high-poverty schools, this new model brings to experienced teachers in Colleton and Jasper counties mentoring relationships and new techniques through a New Teacher Academy. The program is designed to help end the attrition of first- and second-year teachers there.
 Hopeful Horizons has successfully modeled a program to reduce child abuse and neglect in Beaufort County. Nearby Colleton has long had among the highest rates of abuse and neglect in SC. Now, the non-profit's program is being expanded there, and is supported by a 5-year commitment to create "safer communities by changing the culture of violence and offering a path to healing."
Communities in Schools will expand its effective programming into Hampton County. Over the next three years, CIS will bring social-emotional training to teachers in grades k-12 to promote the whole-child model, and provide new resources to families and community members there.
Beaufort County will soon be home to a public charter school (working name: Heritage Academy) seeking to honor the community's Gullah Geechie culture in a high-performing, rigorous academic setting for grades 6-12. CCF's funding will help ensure that academics and culture are lifted up in the communities of color in rural Beaufort.
Low Road Scholars, funded by an anonymous donor, seeks to replicate the success of the Pinckney Scholars process in a race-neutral program. With a 90-plus percent retention and graduation rate, Pinckney has applied proven rigor to college readiness and college scholarship programs. Now CCF is supporting a staff member in Allendale County to help recruit and retain promising students from the 10th grade on.
CCF staff and grantees are working together to track each program, and to determine their long-term effectiveness. Stay abreast of the Foundation's work by following on Facebook, Instagram or LinkedIn.