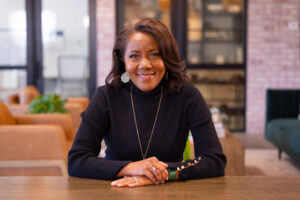 CHARLESTON, S.C. (July 27, 2022) – Coastal Community Foundation today announced the launch of its annual Equity Speaker Series, which will kick off with an inaugural event featuring Barbara Whye, Vice President of Inclusion and Diversity for Apple. The event, hosted in partnership with title sponsor Blackbaud, will take place from 11 a.m. to 1 p.m. on Tuesday, October 4, 2022 at the Harbour Club at WestEdge, located at 22 Westedge Street, Suite 700. A virtual attendance option is also available.
Whye is a South Carolina native and University of South Carolina alumna. In her role as Vice President of Inclusion and Diversity for Apple, Whye leads the charge on the company's commitment to create a more equitable and inclusive world. Previously, Whye served as Intel's Head of Diversity and Inclusion.
"There's no question that Barbara is among the most highly-regarded leaders in the field of Inclusion and Diversity, and we're honored that she has agreed to help us launch this exciting new speaker series," said Darrin Goss, Sr., Coastal Community Foundation President & CEO. "As an organizational core value, Inclusion with Equity guides everything we do here at CCF, which is why we're so excited for the opportunity to hear from a globally-recognized expert about how we can best continue our efforts to create meaningful change in our community."
"Time and again, the team at Coastal Community Foundation have proven that they don't just talk the talk, and this new Equity Speaker Series is evidence of just that," Whye said. "I'm grateful to have been invited to be a part of such an important effort and look forward to further discussing our shared goals of promoting equity and inclusion not just in our workplaces but in everything we do."
Seating for the in-person event is limited. To purchase a ticket, please visit: https://coastalcommunityfoundation.org/special-initiatives/equity-speaker-series/.
With Inclusion with Equity as one of Coastal Community Foundation's four core values, this series was developed to provide an opportunity for community members to meet and hear from nationally recognized thought leaders in diversity, equity and inclusion.
See photos from the inaugural event: