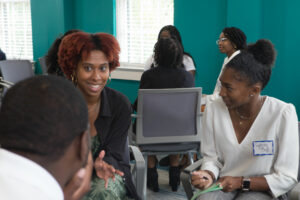 Coastal Community Foundation is thrilled to present the 2022 Rev. Pinckney Scholarship recipients, who represent the first class of Rev. Pinckney Scholars to include students from Colleton and Hampton counties, in addition to students from Beaufort, Charleston and Jasper counties.
In early 2021, CCF announced that the Rev. Pinckney Scholarship and College Readiness programs would expand to serve 60 percent more students each year. In addition to significantly increasing the number of students served in Beaufort and Jasper counties, the programs expanded to students in Colleton and Hampton counties — deepening the Foundation's impact in the South Coast region.  This year, six of the 16 scholars reside in Beaufort, Jasper, Colleton and Hampton counties — the largest class of Rev. Pinckney Scholars representing the South Coast region yet.
The Rev. Pinckney Scholarship Program was established at CCF by anonymous donors in the wake of the Mother Emanuel AME Church tragedy. The program, named after Rev. Clementa Pinckney who was one of the nine victims, provides promising African American students with scholarships and other supportive resources throughout college. Students qualify to apply for the Rev. Pinckney Scholarship program if they are accepted into and complete the Rev. Pinckney College Readiness program, which begins working with students in their junior years of high school to help prepare them for the college selection process.
"Since its inception, the Rev. Pinckney programs have made an enormous impact in the lives of many local students," said Caroline Rakar, Director of Grantmaking and Scholarships at Coastal Community Foundation. "We are excited to be able to offer this opportunity to more students in the South Coast region than ever before and look forward to continuing to support all the 2022 Scholars in achieving their goals throughout college and beyond."
Introducing this year's class:
Edison Jefferson Jr. – Jasper County, Royal Live Oaks Academy  
Having graduated from Royal Live Oaks Academy as valedictorian of his class, Edison demonstrated a strong disposition toward academic excellence throughout his high school career. He completed honors and dual credit courses, received numerous academic distinctions, and was a member of several prestigious organizations and honor societies. Edison was once recognized as the high school Student of the Year, appointed to the Hardeeville Youth Council, selected to serve as a Junior Marshal, named a Palmetto Fellow, and was a Teacher Cadet. Edison is a frequent volunteer in his community and a willing participant in his church's youth ministry. His hobbies include occasional freehand drawing and interacting with his companion animals. Edison is passionate about lifelong learning and devoted to pursuing a career in veterinary medicine. He plans to attend the University of South Carolina Beaufort, where he will study biology and foster his passion through education. Edison was one of 300 students—selected from a pool of over 37,000 applicants—who received The Gates Scholarship. 
 Sydney Boyd, Porter- Gaud School  
Ever since Sydney was a little girl, she always loved giving back to her community. Due to this love, she participated in service every chance she got. Throughout her high school career, she has volunteered at the local VA hospital, Habitat for Humanity, Ronald McDonald House, and more. She received the Leadership in Service Award at her school to put towards a project of her choosing in her senior year. She chose to create wellness and hygiene kits for homeless people in her community. She is now the head leader of programs for those in need such as 180 places, Water Missions, Habitat for Humanity, and Food Programs. Through her passion for service, she found her passion for global health and ensuring that medicine and health care is equitable and accessible. She plans to attend George Washington University to pursue a bachelor's degree in International Affairs & Public Health. By bringing her passion for service and her interest in science together, she hopes to create a better healthcare system for all and close the gap of health disparities among minorities.  
Myracle Cromwell, James Island Charter High School  
Throughout high school, Myracle participated in band, Future Business Leaders of America, and United Brother and Sisters Association. In her free time, she enjoys cooking and playing video games or spending quality time with her family. Due to Myracle growing up as an African American female with a disability, she struggled to fit in and felt her rights and privileges were limited. She used this feeling to fuel her passion and is now extremely passionate about social justice and wanting more for her community. She strives to help give her community representation and be an advocate in the development of inclusive-for-all education.  She plans to attend Newberry College and major in Forensic Psychology, and use her education to create a better future for all communities of color. 
 Leila Green – Beaufort County, Whale Branch Early College High School 
Leila is an active participant in her academic and social endeavors. She has participated in Track & Field, Ladies First, Key Club, Junior ROTC, and HOSA for 3 years. She was also the dance captain for the National Dance Honor Society at her school. Within her community, she is a part of the Beaufort County Youth Conference, the Delta Gems Beaufort Chapter, and she is active in her church. Her biggest passion is giving back to others.  Giving back and helping others is something that was instilled in her since she was young. Leila finds it important because everyone should have someone that can be there for them and support them in all they do. She plans on growing that passion at Newberry College by pursuing a career in the medical field. She plans on serving her community by always staying involved in community events and services, and further on to become a nurse or doctor that could help those in need. 
 Deja Commodore, Early College High School  
Since early childhood, Deja was always very observant about everything around her. She believed that she could do anything in the world. As she grew up this translated to her learning more about dancing and braiding hair. She worked to perfect her craft and now has a passion for dancing and braiding hair. She is passionate about helping and encouraging others to be the best that they can be. Deja will attend Claflin University, and get her bachelor's degree in Business, so that she can combine the two passions and open her own hair salon or dance studio. She can serve her community by welcoming all to come and get their hair done or to come escape by using the art of dance. This will allow them a chance to express themselves and gain confidence in doing something they are passionate about. She believes through these businesses she can give back and encourage others to be confident in themselves. 
LaPortia Scott, Academic Magnet High School  
Since LaPortia was young, she wanted to be a neurologist and explore the brain. However, this changed when she had a personal run-in with a devastating disease that can happen to the brain. After witnessing this event, she realized her passion in neuroscience was working to find treatments and cures. She is currently conducting a research study on the impact of concussions on students' academic perception and self-efficacy. She wants to start a program through MUSC to provide funding for people from low-income households with serious neurodegenerative diseases that require expensive research and medical care. Her education and experiences will help her to reach her ultimate goal to become a traveling physician where she can visit third world nations and provide funding and assistance to the hospitals to assist people, especially children, with critical diseases (brain, heart, and autoimmune diseases) to increase their quality of life and chance of survival. LaPortia will attend the University of South Carolina.  
Kaianne Blake-Wade, James Island Charter High School  
As a graduate from James Island Charter High School, Kaianne Blake-Wade plans to attend Winthrop University, and major in Computer Science to help her find her full potential within her passion for inventing. When she was young, she and her younger sisters would invent their very own toys. Her first invention was the jiggly racer, a go-kart made from popsicle sticks. She continued to build miniature models of things around her, like cars and buildings. Her new favorite hobby is making crocheted-stuffed animals and giving them to others. She plans to use her education to find her calling in the world of inventions. 
Tiana Ramsey-Gathers, James Island Charter High School  
As a young girl, Tiana was always the person that made sure everyone else was happy and healthy. As she grew, this translated into a passion for helping others. She has been involved in many service projects within her community including helping out at the Lowcountry Food Bank, Lowcountry Orphan Relief, coaching recreational basketball, and tutoring. Not only is she active within her community, but also within her school. She has been on the track team for 4 years and is a member in Future Business Leaders of America, United Brothers and Sisters Association, and National Honor Society. With a passion for helping others, Tiana plans to study criminal justice or social work at The University of South Carolina. She wants to be able to help young children no matter what the need is. Ultimately, she wants to reach as many people as possible to help make a change for the better. 
T'Yanni Randall, Early College High School  
As a young African American woman, T'Yanni always aspired to help others feel seen, accepted, and appreciated. She currently does this by participating in volunteer work, church services, and additional academic endeavors. This passion was furthered when her mother enrolled her in local programs that helped students discover their careers while using resources to find scholarships and internships. Attending these programs allowed her to do a lot of self-reflection and made an impact on her. Now she loves to educate younger high school students about these great opportunities. By working with students of the next generation, she taught an abundance of lessons and skills that she had personal experiences with. As a Charlestonian, she has always wanted to do more for her community. T'Yanni plans to attend Lander University and major in Nursing. She plans to use her education to uplift marginalized communities, mentor the younger generation, and share/educate others about available resources and opportunities.  
 Jamesha Singleton-Weathers, Wando High School  
Jamesha's passion for helping others grew after the passing of her mother in 2019. Her untimely death encouraged Jamesha to stay strong. The feeling of not being able to help her mom plagued her and made her desire to help others stronger. In high school, she helped others by volunteering at the homeless shelter, food banks, and at her church. She plans to use her passion to help children by becoming a pediatrician to help care for and prevent health-related issues. She plans to attend Lincoln University, a Historically Black College University, for undergraduate and will go to medical school after. Although her passion grew from tragedy, she is sure that helping others will be rewarding in life and make her mother proud of her.  
Ari Bing – Beaufort County, Battery Creek High School 
As a graduate of Battery Creek High School, Ari Bing will be attending the University of South Carolina- Upstate to pursue a science degree. Since she was a young girl, there wasn't much representation of African American women in the science field. Since then, she has involved herself in science/health-related activities. In high school, she joined HOSA (Future Health Professionals) where she helps organize events to help and support her community. Her overall goal is to become a role model for young black girls to see that they can do anything they put their minds to. She plans to use her education, not only to further her career goals, but to also make an impact on her community.  
Tyree Green, Charleston Charter School for Math and Science  
Tyree has always believed in the power of storytelling. He lives by the concept that "within storytelling lies the power to inspire and the power to impact". He expresses his love for storytelling through both photography and art. He sees the beauty that lies within how much emotion can be conveyed in a still image or a sketch/painting. Utilizing his passion and skills, Tyree is involved in his school's Yearbook and Newspaper club. This passion has led him to want his own film and photography business. The business would center around helping people of all kinds tell their stories. He sees himself documenting important times for people, providing marketing, and advertising for small businesses, and creating documentaries about those who are silenced. He plans to attend the University of South Carolina and major in Marketing.  
Candace Reilley – Jasper County, Ridgeland-Hardeeville High School 
At age 4, Candace and her sister were adopted from an orphanage and moved from their birthplace in Ethiopia to America. Her world had changed in a profound way, and she was thrust into a new world of living. As she explored this world, she began to appreciate the importance of a good education. She capitalized on all the opportunities that she was given. Throughout her high school career, she joined National Honor Society, BETA club, Hardeeville Youth Council, and the MCJROTC Color Guard. A few years after she was adopted, Candace was given a real stethoscope as a gift since she always wanted to become a doctor. It was this stethoscope that helped her inform her mother that her heart didn't sound right. Her mother was diagnosed with a severe valve malformation and at that very moment that she knew she was destined to become a doctor. She will attend Furman University and plans to use her education to be able to continue to help others live a happy and healthy life.  
Leondra Chavis, James Island Charter High School  
When Leondra was 15, she was diagnosed with Type-1 Diabetes. The care that she received while in the hospital helped her find her passion to become a Pediatric Registered Nurse. Leondra's grandmother was a pediatric LPN, but unfortunately passed away due to COVID-19. Alongside nursing, she has a passion for being a listening ear and letting others know they are not alone. She plans to explore both these passions by pursuing an education in Nursing and Psychology with the goal of opening her own mental health practice. Her goal is to change people's lives, heal people mentally, and teach self-care techniques. She follows the scripture from Proverbs 11:25 "Generous persons will prosper; those who refresh others will themselves be refreshed." Leondra will attend Francis Marion University and major in Nursing. She is excited to be able to make a difference in her community and keep her grandmother's legacy alive.  
Koki Green Jr – Hampton County, Estill High School 
As a graduate of Estill High School, Koki was very active in his high school. He participated in football, basketball, baseball, and track as the captain on each team. He is also a member of the Senior BETA Club. Koki dreams of being the first person to leave the Estill community and come back to spread his knowledge to people throughout the community. He plans to explore his passions through education and service to his community. Ultimately, he wants to be an inspiration and role model for younger African American kids to want more for themselves out of life. As Koki states "I want to be the hope for my community to let them know that they can do anything as long they put their mind to it and have God on their side". Koki will attend the University of South Carolina.  
Jayda Singleton – Hampton County – Estill High School 
Jayda will be graduating from Estill High School as a member of the first class of Hampton County Visionaries for the Reverend Pinckney College Readiness Program. Throughout high school, Jayda prided herself on her involvement on the Cheerleading Team. She enjoys cheering as a hobby and was able to use it as a creative outlet. As a kid, Jayda always wanted the perfect smile that she would see on people on TV. Her teeth and their appearance meant a lot to her and led her to finding her passion for becoming a dental hygienist. Jayda plans to attend Midlands Technical College to complete their Dental Hygiene Program. Not only does she hope to become a dental hygienist, but through her career learn to be a leader, overcome adversity, and strengthening her skill set so she can serve the community.