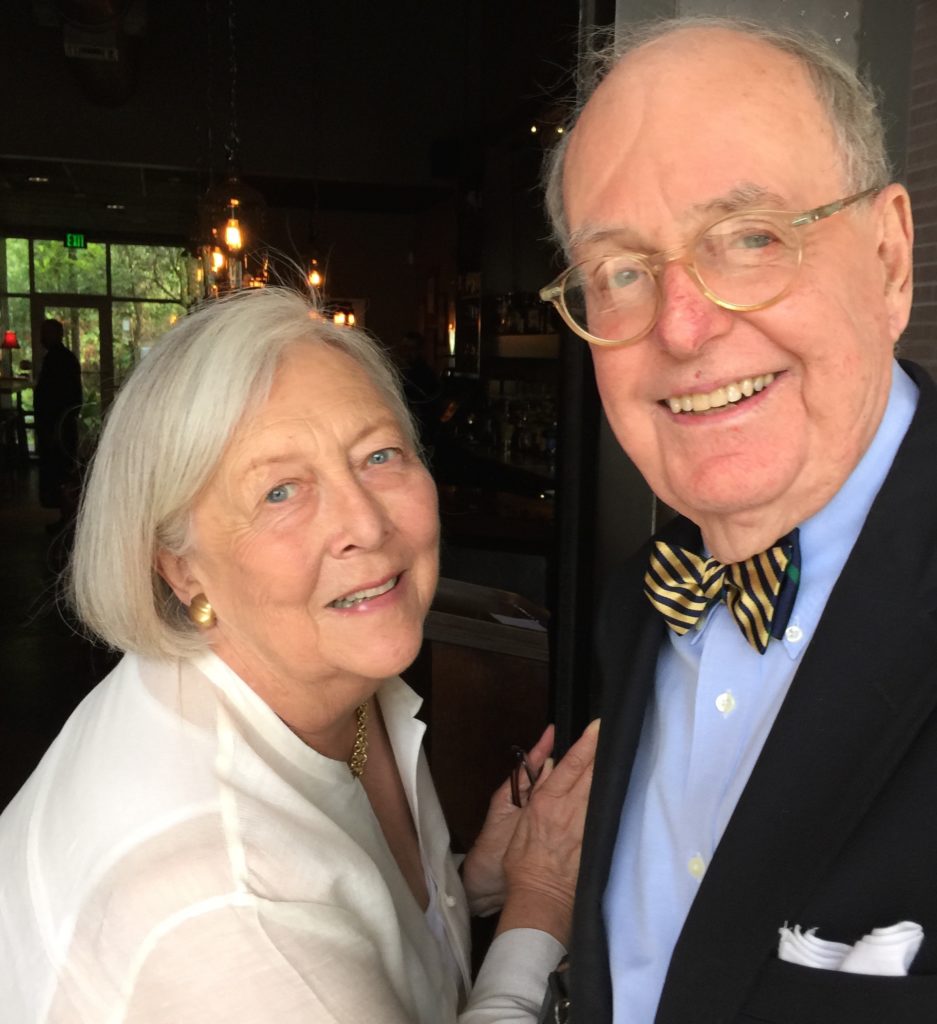 The model of Passing Gear Philanthropy encourages us to deploy all five forms of our resources to achieve the greatest impact — our social, moral, intellectual, reputational and financial capital, or SMIRF as we often call it. Coastal Community Foundation embraces this ideology as an organization, as do many of our fundholders. Prime examples are Peter and Patti McGee, who established the Joseph H. and Evelyn M. McGee Fund at CCF in 1998. 
The McGees' grantmaking has continuously complemented their civic lives and volunteer engagements. Patti was an early volunteer and supporter of Charleston staples such as the Spoleto Festival USA, while Peter helped develop many popular sites that both protect and showcase the city's history, such as Drayton Hall. Being actively involved in the community gave the couple the ability to help shape Charleston into the city it is today, while celebrating its rich history and culture.  
We caught up with Peter and Patti to discuss their philanthropic giving through CCF, their many community involvements and the importance of encouraging their family's younger generations to uphold the same values. 
Q: Over the years, your grantmaking at CCF has complemented your civic and volunteer endeavors in Charleston. Why do you think it's important to use your various forms of capital — financial, social, intellectual, reputational — to enhance and invest in your community? 
A: We would not have thought of our engagement as forms of capital, but hearing it described that way, it makes sense. When you are involved with an organization, you use all the tools, skills and resources you can bring to bear to get the job done.  
We both believe in volunteering and our service on boards over the past sixty years has brought us much pleasure and satisfaction. Charleston has changed greatly, mostly for the better. Nonprofits with which we've been involved, like Historic Charleston Foundation and Spoleto, have contributed greatly to the city's development. That makes us proud. 
Q:  You both have been involved in various community events and organizations, such as Spoleto Festival USA and the Charleston Horticultural Society. You also have both been honored in various ways — Order of the Palmetto this past May and the Mary Ramsay Civic Award in 2017. What is your favorite part of being actively involved in your community? 
A: To begin with, we're "has been's" now. We were both very involved for many years and through our service made many friends who shared our core values. It was also a great way to learn to lead. Most importantly, we helped shape our community. 
Q: Over the years, is there a particular grantee's work, or an impact that you've made through your fund's grantmaking, that has stood out to you? 
A: We created our fund in the 2000's when our daughter worked at CCF. So, the grantmaking we've done through the fund has primarily supported organizations with which we were already working.  
The positive economic impact of our city's preservation and horticultural efforts stand out to us. Peter helped with the development of Mills House Hotel, Charles Towne Landing, Drayton Hall, McLeod Plantation, SC Historical Society, Historic Charleston Foundation's historic homes, and several other efforts that have become integral sites in protecting and showcasing our city's history and culture. Patti was an early volunteer and supporter of Gibbes Art Museum, the Junior League, the Spoleto Festival USA and the Charleston Horticultural Society. It's hard to imagine Charleston without these organizations.  
 Additionally, CCF, through Ruth Heffron's leadership was one of the first organizations to seek diversity and inclusion of leaders from across our community. Peter served on the board for several years and we both value the organization's leadership in this regard. 
Q: Both you and your children have set up funds through CCF and are beginning to get the next generation more involved. Why did you feel it was important for your family to be involved in philanthropic giving? 
A:  We both believe that life is about doing for others. We are proud that our daughters share that value and have given back both professionally as well as philanthropically. While one of our daughters lives out of state, she and her husband, who is also from Charleston, continue their support of the community through their donor–advised fund. CCF keeps us all connected to the community. 
Q: You have been a fundholder at Coastal Community Foundation for over 20 years. What do you think is the most positive aspect of giving through the Foundation? 
A: We knew Mal Haven and remember when the Community Foundation was started. From the beginning, it seemed like a great way to support our community work and build philanthropic resources. Charleston was so very poor for so very long; we don't have many private foundations like the Upstate.  
CCF's leadership was critical to building a community of philanthropists, like Linda Ketner, Allen Houghton, Mayo Read, the Barkley, Pearlstine and Zucker families and so many more who led through their investments. We know CCF donors will continue to do so for years to come.