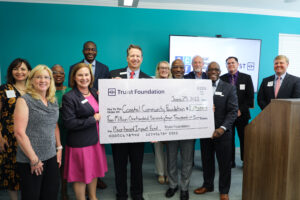 Coastal Community Foundation (CCF) and Truist officially launched their community partnership and shared the strategy for future investment in the Lowcountry region during an event Thursday at CCF's North Charleston headquarters.
In March, CCF was awarded a $2.174 million grant from the Truist Charitable Fund, a donor-advised fund administered by the Winston-Salem Foundation. This grant directly supports and expands CCF's Place-Based Impact Investing (PBII) and economic mobility grantmaking within CCF's nine-county service area.
The innovative PBII program invests in businesses that will achieve both a measurable financial return as well as a positive, social impact. PBII has already had measurable change throughout the region. An investment in the Palmetto Project's Insure SC converted Affordable Care Act (ACA) customer service agents to licensed insurance brokers. This increased access to affordable health insurance, doubling enrollment in ACA and tripling enrollment in Medicare Advantage.
Impact investing is also creating new affordable housing units in the region. Investment in Metanoia's Golden Dream project will create 20 new affordable housing units in North Charleston, and CCF has investment plans for another 130 homes in the region over the next two years.
One of CCF's largest PBII investments is in the North Charleston Opportunity Center, where community members have the resources to take their futures into their own hands through entrepreneurship. The Opportunity Center provides business development resources, mentorship, collaboration space, and capital to entrepreneurs. Last year alone, the SBA Community Navigator Minority Business Development Project (housed in the Opportunity Center) approved more than $20.5 million in loan and grant capital and thousands of hours of business counseling and training.
"These are just a few examples of how Place-Based Impact Investing is creating economic mobility in our region," said President and CEO Darrin Goss. "Coastal Community Foundation is a convener of resources, funding, and expertise. Partnering with co-investors like Truist will provide transformational funding, enabling us to scale our organization's reach and accelerate our impact."
"Truist is inspired by the innovative approach to opportunity generation through Coastal Community Foundation's Place-Based Impact Investing," said Mark Lattanzio, South Carolina Market President at Truist. "Our recent grant to CCF will allow us to work collaboratively and effectively together to enable businesses, families, and individuals in our local Charleston community achieve financial stability and economic mobility."
Coastal Community Foundation's economic mobility success will continue to grow with the partnership of individual donors, grantmaking foundations, and businesses. Learn more about the ways to strategic investing can solve systemic problems in our region and get involved here.