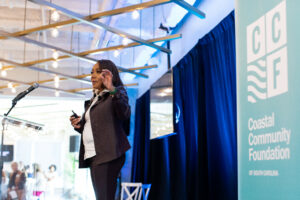 "The most resilient organizations are inclusive organizations."
That was the lesson imparted to scores of business and non-profit leaders who gathered together in person – and virtually – this week to help us kick off our Equity Speaker Series.
CCF's inaugural speaker – Barbara Whye, Vice President of Inclusion and Diversity at Apple – proved the ideal flag bearer for this effort. A native South Carolinian, she has helped to advance an embrace of equity in numerous large corporations. Today, she's proud to note the advances that tech companies are making in understanding the value of diversity as a competitive advantage.
The University of South Carolina graduate outlined the pillars that build an organization's Diversity, Equity and Inclusion mindset: advancing representation and equity, delivering inclusive experiences and leading with accountability and transparency.
"Leaders have the amazing opportunity to create and foster an environment where people truly thrive. Create this environment through the power of being vulnerable, the power of sharing and the power of asking for support.
Consider Sponsorship
Receiving support was a strong throughline in Whye's remarks. She served up the notion of 'sponsorship,' or actively supporting individuals from BIPOC or other under-represented communities. "Sponsorship" means selecting those individuals with potential and shepherding them to new opportunities.
As she noted, this can feel (at first blush) unfair to others. But when pressed, many individuals will recognize the privilege of looking and thinking like their colleagues or supervisors. A glide path forward opens up to them that may be closed to worthy colleagues.
"Leaders have the amazing opportunity to create and foster an environment where people truly thrive."
And, she noted, one clear way to create that environment is to integrate DEI metrics in overall business strategy. Making DEI doesn't then become an add-on or feel good – it becomes as important to the work as quarterly earnings.
"Our differences are key to growth, and should be celebrated," she noted.
We offer a special thank you to sponsors Blackbaud, South State Bank, Truist, Dominion Energy, MUSC Health, Charleston Metro Chamber Foundation, Jewish Endowment Foundation of Greater Charleston, and AV Connections.
See photos from the inaugural event: