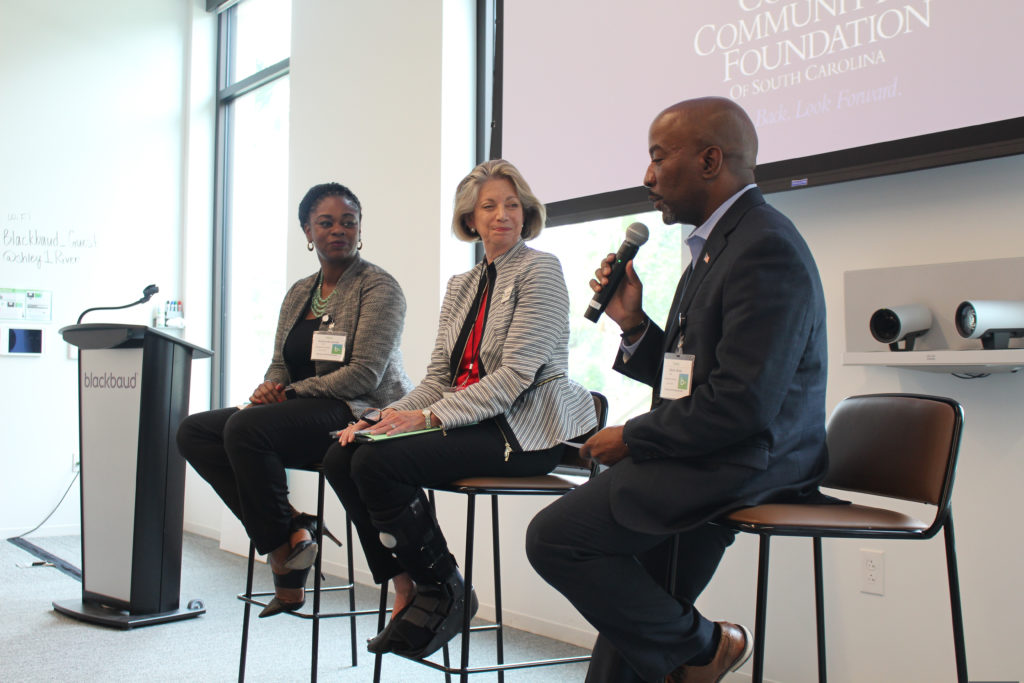 On Tuesday, October 29, CCF hosted a Philanthropy Engagement Session to explore the topic of economic mobility as a deeper exploration of access to economic opportunity. The event, sponsored by Blackbaud, was held in three strategic locations simultaneously across our service area to engage a range of our donors and localize the issue with different speaker panels of community stakeholders and experts.
We began with an overview presentation with South Carolina-specific data, which revealed that the majority of people living in poverty have less than a high school diploma. And even if salaries increase for those individuals, data shows the costs of housing and transportation are likely to continue to outpace extra earnings they bring in. All of these findings are underscored by the fact that it is harder to get out of poverty in South Carolina than in any other state.
In Charleston, the panelists were Nashonda Hunter, the Executive Director of The Charity Foundation, a nonprofit associated with the Charity Missionary Baptist Church in North Charleston; and Eileen Chepenik, the Executive Director of Trident Literacy Association, a leading agency in adult education.
Eileen underscored the need for adult education in order for people to access economic opportunities, given the fact that educational attainment correlates with earnings later in life. Nashonda emphasized that employers play a role in ensuring our region improves housing options, educational outcomes and pay equity for workers.
Gary Lamberson, a CCF fundholder in attendance, added to the discussion by pointing out that South Carolina's low unemployment rate doesn't mean people are earning what it takes to live here. After the event concluded, he said he appreciated the dialogue with the experts.
I'd come again. To get smart people in the same room talking about the problems facing the community…you have to do that. Otherwise, you'll never get to the solutions.
—Gary Lamberson, a CCF fundholder
Others who attended shared his sentiment. In a survey conducted afterwards, 100 percent of respondents said they would attend future sessions, while 91 percent said the event will help their decision-making as a donor.
In Beaufort, our panelists were Beaufort City Councilman Stephen Murray; Mary Lee Carns, Vice President of Advancement and External Relations at Technical College of the Lowcountry; and Wendy Zara, Chair of the SC Community Loan Fund Board and Treasurer of the SC Environmental Law Project.
Mary Lee, Wendy, and Stephen discussed the barriers and opportunities that currently exist for residents of Beaufort, Jasper, Hampton and Colleton counties. The panelists talked through the need for more housing, better transportation, and increased access to education.
They all agreed that education is key to progress.
In Murrells Inlet at Waccamaw Community Foundation, panelists were Wallace Evans Jr., Executive Director of A Father's Place, a nonprofit which engages fathers in the positive support of their children; and Ayla Hemeon, Workforce and Development Director for the Waccamaw Regional Council of Governments.
Wallace and Ayla's discussion centered on the barriers preventing access to economic opportunity: such as job skill deficiencies, income inequality, a lack of transportation options and predatory lending practices.