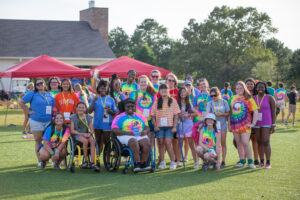 The Charles Webb/ Ed Croft Endowment Fund awards grants to nonprofits that strive to improve the lives of children with special needs in Berkeley, Charleston and Dorchester counties. Since 1997, the fund has granted $1.7 million to 60 nonprofit organizations in the Tri-County area.
Charles Webb became an advocate for children with special needs after his son contracted polio in 1928 at the age of four. Webb and his friend, Ed Croft, partnered with the Rotary Club of Charleston to create the Crippled Children's Society of South Carolina. The organization fought to eradicate polio and provide services to disabled children. The Charles Webb Center opened in 1962 in downtown Charleston. When the center moved to West Ashley in the early 1990s, $900,000 from the sale of the original building was used to create the endowment fund with Coastal Community Foundation.
One of the organizations that has received grants from the Webb/Croft fund is Camp Rise Above. This nonprofit provides overnight camps, day camps, family fun days, and hospital camps for children and adults with special needs, disabilities, and medical challenges. Because of grants like this one, Camp Rise Above offers the programs at no cost to families.
Since the original donation, 21 community members have donated more than $1 million to the fund. Contribute to the Charles Webb/ Ed Croft Endowment Fund here.