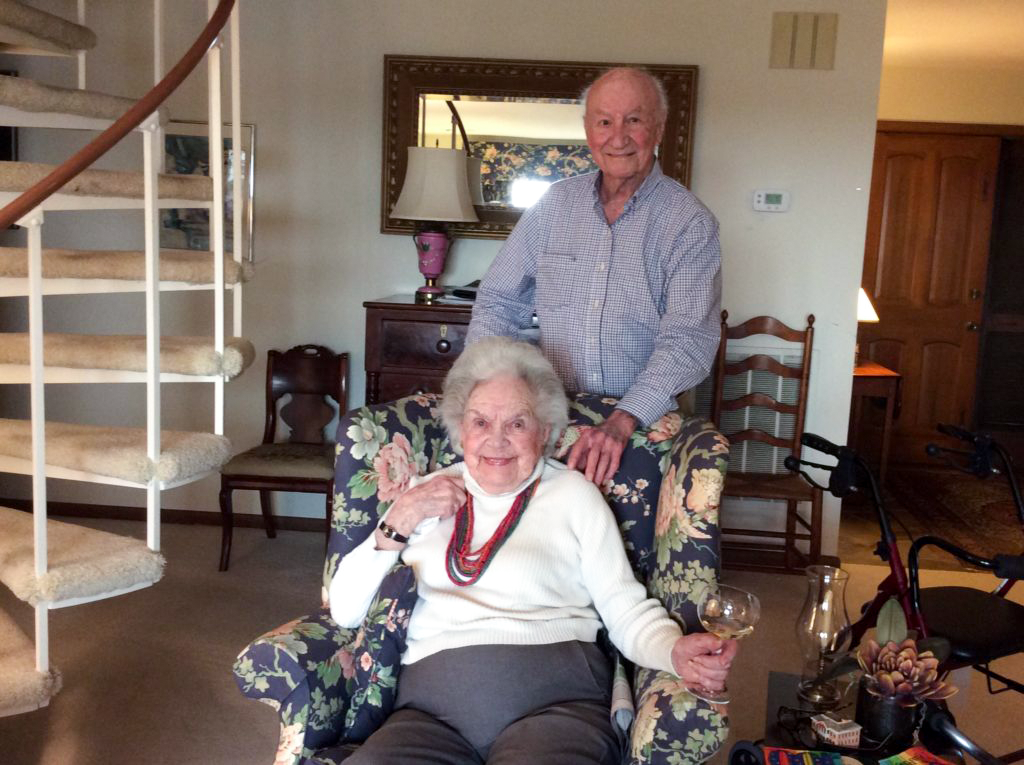 The kind of man who always wants to be involved.
For CCF, the lifelong legacy of donors like John Stewart define this statement. A member of our Honor Roll of Legacy Builders (individuals who have a planned gift at the Foundation), John Stewart passed last month and is survived by his wife Hannah, their three children, five grandchildren and four great-grandchildren.
John Stewart was invested in the place where he lived from a young age. Born outside of Wichita, he began working in his family's dry goods store at the age of 12. After receiving a scholarship to attend a two-year military program at Wentworth Academy in Missouri, John put himself through college at University of Kansas at Lawrence by waiting tables at his own fraternity – Beta Theta Pi. Committed to the idea of becoming a lawyer, he turned down an appointment at West Point Military Academy and graduated from University of Kansas School of Law in 1940. Six years into working with the FBI out of Ohio, John and his new family moved to New Jersey, where the Stewart children remember spending most of their childhood. From 1947-1984, John spent most of his time with his wife and children and traveled internationally while working for the Inspectors Department of American Express.
In retirement, John Stewart and his wife Hannah (they celebrated their 74th wedding anniversary in September of 2015) moved to Seabrook Island and in 1993 began the Fund for Johns Island with several other community members. Daughter Grier Novinger remembers her father as "the kind of man who always wants to be involved."
Since its inception, the Fund has existed to improve quality of life for residents of Johns Island. Some community builders the Fund has supported in the past include Alan Fleming Memorial Tennis Courts, Barrier Islands Free Medical Clinic, Communities in Schools and Lowcountry Open Land Trust. Since 1993, more than ten students have received scholarships from this Fund, enabling them to attend Clemson University, Coastal Carolina University, the College of Charleston and University, North Carolina A&T State University, University of South Carolina and USC Upstate.
Hannah and John Stewart also created three Charitable Remainder Trusts (CRTs) for their three children to receive income from the balance of their retirement assets. CRTs allow the donor or other beneficiary to receive income from the assets during their lifetime. Coastal Community Foundation acts as a trustee for these funds, which, upon death of the Stewart children, will become permanent charitable endowments to benefit organizations about which the Stewart family cares, such as Barrier Islands Free Medical Clinic, Rural Mission and Trident United Way. A portion of this funding will remain unrestricted to address future community needs of Johns Island.
Stewart continued his community involvement through retirement by serving as Director, Vice President and President of the Seabrook Property Owners Association from 1985-1988, Director of the Charleston Symphony Orchestra from 1990-1999 and a member of Coastal Community Foundation's Board and Investment Committee.
It is an honor to work with members of the Lowcountry community like John Stewart and his wife Hannah. We thank the Stewart family for putting down roots in Charleston County and for their generosity.