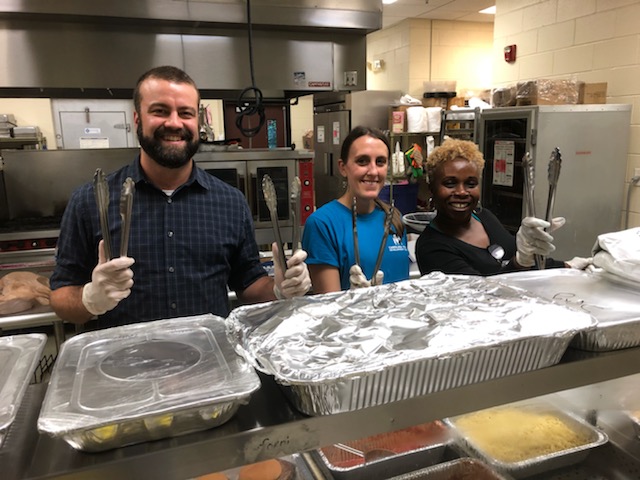 On an average week, the Carolina Youth Development Center admits one new child to its group homes in North Charleston and Moncks Corner. Last week, they took in seven. 
CYDC has four cottage-style group homes on the two campuses, where they shelter displaced teens, often at the referral of the S.C. Department of Social Services.  Beverly Hardin, Chief Executive Officer of CYDC, said the referral rate has recently "skyrocketed" amid the coronavirus pandemic. The facilities are now preparing to house 48 children ages 13-21, a 25 percent increase in the typical population.
"DSS is calling us every day and saying, 'we're really worried that there aren't enough places for kids to go,'" Hardin said. "We're working really hard to keep our doors open and to keep accepting kids, and we want to make sure we can serve the kids that need us."
The COVID-19 outbreak has presented a number of complex challenges that make it increasingly difficult for Hardin and her team to care for so many kids. But with a $10,000 grant from the COVID-19 Relief & Recovery Fund of Coastal Community Foundation, that mission will be easier for CYDC to fulfill, Hardin said.
"What a huge, monumental piece of encouragement for a group that is so often overlooked," she said. "That makes such a difference. Thank you, for many reasons."
The influx of referrals to group homes like CYDC are related to the COVID-19 outbreak in two main ways, according to Hardin. Kids no longer in school are now spending all their time at home, some with parents facing increased stress and addiction issues – which puts kids in the home at a greater risk of abuse. Other children whose caregivers have to be hospitalized are at a risk of neglect if nobody else can care for them.
In a recent Post and Courier article, Michael Leach, director of the state DSS, discussed the increase in abused and neglected children, saying the coronavirus was "devastating to our operations."
Although the population at the group homes is swelling, CYDC has fewer team members to help meet the increased needs. Three employees are on medical leave, and recruiting new team members has been a challenge amid the pandemic.
With fewer employees covering longer shifts, Hardin said overtime costs have doubled in the past two weeks. The grant from the COVID-19 Relief & Recovery Fund will help cover those costs and help CYDC recruit new staff.
Hardin said CYDC remains committed to housing as many children as there is room for, however, because there often are no other options for them. Plus, many of them need the emotional support that staff members at CYDC can provide.
"I am heartbroken for these kids because they already have such a hard row to hope," Hardin said. "It's just gotten so much worse and so much harder. They're already struggling with anxiety and they're now seeing court dates get cancelled, and family visits that can't happen in person anymore." 
Keeping them healthy and focused on positive activities helps them cope with anxiety and trauma, placing more emphasis on regular programming and specialized attention to the kids' needs. 
"This is where our work becomes very important," Hardin said. "We just want to make sure we're doing everything in our power." 
The COVID-19 Relief & Recovery Fund is a regional, collaborative effort led by Coastal Community Foundation and supported by Black River United Way, the Chapin Foundation, Frances P. Bunnelle Foundation, the Gaylord & Dorothy Donnelley Foundation, Social Venture Partners Charleston, Trident United Way, United Way of Horry County, United Way of the Lowcountry and Waccamaw Community Foundation. 
This fund will continue to award grants to nonprofits working with communities disproportionately affected by the coronavirus outbreak and whose work is within the nine counties of coastal South Carolina: Beaufort, Berkeley, Charleston, Colleton, Dorchester, Georgetown, Hampton, Horry and Jasper Counties. You can support this work by making a secure, online, tax-deductible donation here.