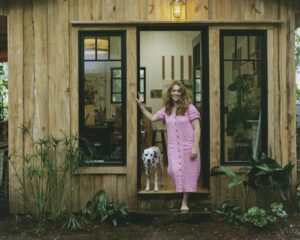 The 2022 Griffith-Reyburn Lowcountry Artist of the Year will unveil her new piece during a free community event on Tuesday, November 1.  This event is open to the public, but advance registration is required.
The Griffith-Reyburn Lowcountry Artist of the Year award was established at Coastal Community Foundation nearly 20 years ago by Mike Griffith and Donna Reyburn. This award supports creation of new artwork that represents the look and feel of the South Carolina Lowcountry lifestyle, culture, or environment.
"The Griffith-Reyburn Lowcountry Artist of the Year award is intended to cover the artist's living expenses while they create a new piece," said Director of Grantmaking and Scholarships Caroline Rakar. "Providing the opportunity to focus on the artistic process creates an environment for art to thrive in the Lowcountry."
The 2022 Lowcountry Artist of the Year is Gret Mackintosh. She is a full-time painter whose work is often inspired by nature. Her newest piece is substantial in size and depicts an aerial view of the Charleston peninsula.
"Receiving the award gave me much needed time and space to create a piece of art that is a bit more daring and time consuming," said Mackintosh. "Maps connect people in so many ways. Viewers will see places they recognize on this large illustrative map of Charleston and be able to see the ways in which we are all united."
The celebration of Gret Mackintosh and debut of her new commissioned piece will be Tuesday, November 1 from 6-8 p.m. at Garden & Gun, 701 East Bay Street #115. The event is free, and attendees can register by emailing rsvp@coastalcommunityfoundation.org.
Photos from the 2022 event: