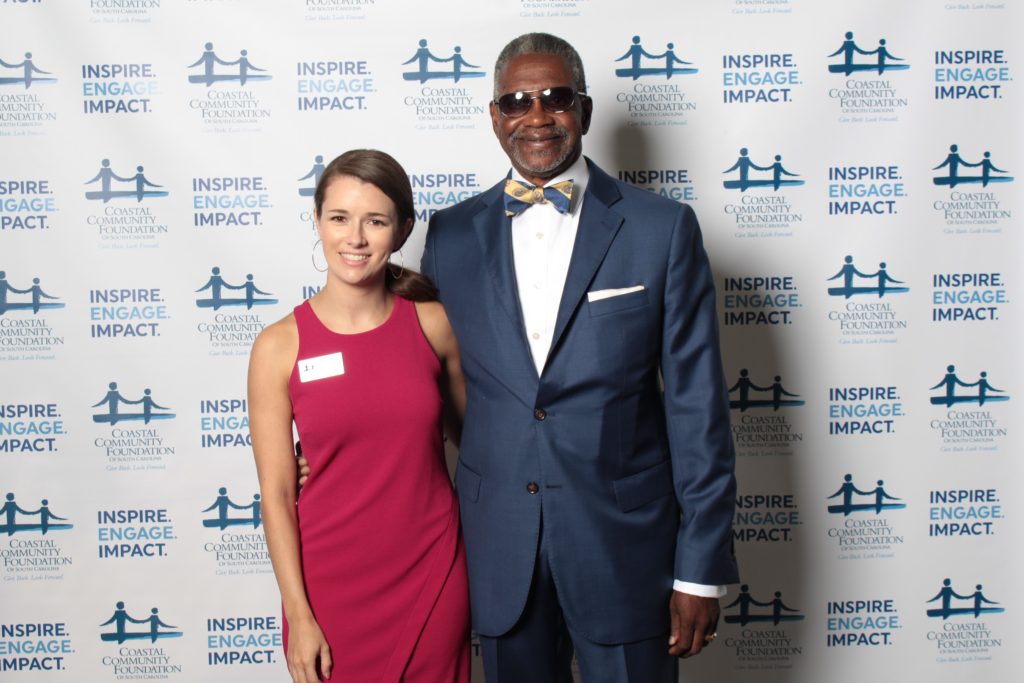 The news of the passing of Agustus "Gus" Holt on April 16 has deeply saddened the Coastal Community Foundation team. Gus was a longtime supporter, partner and friend of the Foundation. He was a man whose leadership in the community consistently served as a source of inspiration and a reminder of what philanthropy is all about: improving our communities by lifting up those around us.
"Gus was the ultimate gentlemen, an ambassador for what he believed in and was a strong supporter of CCF," said Darrin Goss, CEO and President of Coastal Community Foundation. "When I joined CCF four years ago, he instantly embraced and welcomed me. On a few occasions, we had the opportunity to connect and share stories. I will personally miss Gus a lot."
Mr. Holt is perhaps best known in the Charleston region for dedicating much of his life to seeking recognition for the Charleston Cannon Street All-Stars baseball team. The all-black youth team was excluded from Little League competitions in 1950s despite its impressive record because of the team's race. Other teams refused to play them. 
When Mr. Holt, a local historian, learned of this story in the 1990s, he advocated for commemoration of the team's achievements and the truth about what kept them from more widespread recognition. Thanks to Gus' persistence, the All-Stars were honored with a commemorative plaque by the city of Charleston and the team has been featured on national news and radio programs. 
Mr. Holt's dedication to the achievements of young people extended to his philanthropy with Coastal Community Foundation, where he established the Lawrence A. Holt Scholarship Endowment in honor of his late son. Lawrence died of cancer at the age of 18. 
The Endowment awards annual scholarships to an African–American senior at Garrett Academy of Technology, Lawrence's alma mater. Preference is given to students who reflect Lawrence's interests and merits, particularly his passion for sports and community service. With the school closing this year, the scholarship will now be expanded to any African-American students in Charleston County, as Mr. Holt wished. 
Since the Endowment was created in 2000, 15 students have been awarded the scholarship, with the 16th scholarship to be awarded in May.  
Altoria Brown was one recipient of the scholarship who said she will always fondly remember Mr. Holt and the scholarship's legacy.  
"When I think about Mr. Holt, immediately I think, 'compassion.' He was big on me finding what I loved and making it known. When I hear his name, I feel his warm embrace and kind smirk," she said. "I am extremely honored to have received the Lawrence A. Holt Scholarship. To me, it meant that my hard work as a student-athlete was worthwhile. The feeling of being thought about just as Mr. Holt and the community thought, honored and cared about Lawrence is a feeling I will carry with me forever." 
In addition, Mr. Holt kept close ties with the Coastal Community Foundation team and our efforts in the community. After the Emanuel AME Church tragedy in 2015, Mr. Holt served on first committee of the Lowcountry Unity Fund — a program aimed at supporting efforts that address systemic racism in our community.  
Caroline Rakar, the program officer who specializes in scholarships at Coastal Community Foundation, remembers Gus Holt best for the way he made others feel seen.  
"Mr. Holt was the kind of guy who knew everyone—yet, was able to recall details of your life in a way that made you feel uniquely special and recognized.  That's what he dedicated his life to—recognizing people—from Lawrence, to the 1955 Cannon Street YMCA All-Star baseball team members, to the graduates of Garrett Academy," she said. "He celebrated them and pushed for our community to join him in those recognitions. He was truly one of a kind." 
We extend our condolences to Mr. Holt's family and friends, and feel grateful that through his scholarship fund, the legacy of Mr. Holt and his beloved son will live on.