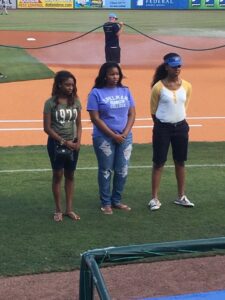 There's nothing quite like America's pastime to bring a community together. The minor-league home team and Tampa Bay Rays affiliate, the Charleston RiverDogs, created a gathering place to enjoy a hot dog, ball game, and sense of belonging. 90 percent of the people who enter "The Joe" are locals, which is staggering in a tourist destination like Charleston. The RiverDogs understand and appreciate the value of a loyal local fan base and make it a priority to give back to the community that supports them.
Coastal Community Foundation has worked closely with the RiverDogs throughout their time in the Holy City. They've made contributions to the Charleston Police Grants Fund and Agustus J. and Lawrence A. Holt Scholarship Endowment for African-American students. The organization has also teamed up with CCF to support the Rev. Pinckney Scholarship Program by hosting Scholar events at The Joe.
The RiverDogs and their staff have found several ways to contribute time and money to local nonprofits with a variety of missions. Coastal Community Foundation looks forward to a continued partnership and bright future with the team.
Q: RiverDogs games are a gathering place for locals to enjoy baseball as well as a sense of community. In what ways does the Charleston RiverDogs organization currently work to give back?
A: We at the RiverDogs take seriously our role to be a major force for good in our community, and we also know that as a business, our success is specifically dependent on the support of the community. So, we are intentional about giving back so that we can both build a stronger community and create relationships that make Lowcountry families, organizations, and employers want to continue to come out to the ballpark and support their hometown team in return. First off, we have a policy that we never say no to a donation request; we donate thousands of dollars and thousands more tickets to Lowcountry organizations each year to help in fundraising efforts. Although we support a myriad of causes, the pillars that are nearest to our mission are Youth Sports and Fitness, Diversity and Inclusion, Military Appreciation and Support, and Early Childhood Literacy. We specifically target partnerships that focus on those core initiatives and provide support and our platform to help make an impact.
Q: In addition to giving monetarily, the RiverDogs team and staff are also committed to donating time to local nonprofits. How do you encourage this and why is it so important?
A: We believe very strongly that every member of our staff should be engaged in an area of passion in our community. All 25+ members of our full-time team are encouraged to be engaged in a non-profit or civic organization of their choosing. We also support many organizations throughout the year in partnership with REV Federal Credit Union by sending our staff out to volunteer once a month in the community. To name a few, we serve food at One80Place and Neighbors Together, we beautify our public spaces with Charleston Parks Conservancy and Keep North Charleston Beautiful, and we partner with organizations like Windwood Farms, the MUSC Shawn Jenkins Children's Hospital, and Pattison's Academy to create memorable experiences for families in challenging situations.
Q: The RiverDogs have been longtime supporters of the Agustus J. and Lawrence A. Holt Scholarship Endowment. Can you share more about your connection to Gus Holt and why this particular scholarship speaks to your organization? ​
A: Gus Holt was a tireless advocate for fairness and equity in our youth sports programs, and the RiverDogs are proud to have been a long-time partner in that initiative. We hope that our relationship with the Holt family and the 1955 Cannon Street All-Stars — an all-black Little League team from downtown Charleston who weren't allowed to play in the Little League World Series due to the color of their skin — has kept in the spotlight their incredible story of perseverance in the face of discrimination. We're proud to be a small part in continuing this legacy forward in our community.
Q: The RiverDogs have also contributed a significant amount to the Charleston Police Grants Fund. How does this fund support the mission of the Charleston RiverDogs?
A: We want our community to be strong and be a place where everyone can prosper and supporting the Charleston Police Department and the Grants Fund is a way to support this powerful goal.
Q: Your organization has a personal connection to causes that support the families of the Emanuel Nine. Please share more about why this cause is close to your heart and how you hope to continue to support the legacy of the Nine.
A: The immediate reaction of peace, unity, and forgiveness demonstrated by the families of the Emanuel Nine — who suffered unimaginable tragedy — made the RiverDogs family incredibly proud to be a part of this great community. And no voice was louder in that message than Chris Singleton, who has been a member of the RiverDogs staff and family for almost five years. To see how Chris — who had been tied to the RiverDogs through his love of baseball as a player at CSU and in the Cubs system prior to joining the RiverDogs' staff — has taken a terrible tragedy and turned that around to spread so much good is truly inspiring. Seeing the impact that he, and the other families, continue to make in our community inspires us to use our platform to keep their message in the forefront and to continue supporting this cause however we can.