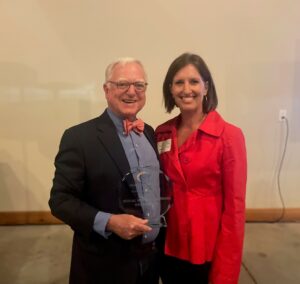 Social Venture Partners Charleston received the Association of Fundraising Professionals 2022 Outstanding Organization award as part of the SC Lowcountry Chapter's annual celebration of National Philanthropy Day.
"On behalf of our 45 partners, this very special award is a welcome recognition of engaged philanthropy as practiced by Social Venture Partners Charleston," said SVP Chairman Ian Devine. "We are grateful to the leadership of AFP Lowcountry for recognizing our efforts to make an impact across the region."
The 2022 Honorees in addition to SVP Charleston for Outstanding Organization include: Volvo Cars US as Outstanding Corporation; Dr. and Mrs. Joseph G. Reves as Outstanding Individual Philanthropists; Sydney Severance for Operation Upright as Outstanding Youth in Philanthropy; and Leigh Jones Handal as Outstanding Fundraising Professional.
SVP Charleston recently received the Charleston Metro Chamber of Commerce Community Impact Award at the 2022 Honors Night. SVP also held the finale of the 2022 Investment Cycle at Empower Charleston celebrating six local nonprofit organizations. A total of $144,350 in co-investments was raised supporting mental health, economic mobility, and elementary education challenges faced by youth and families in the Lowcountry.
Every year, in conjunction with the celebration of National Philanthropy Day, the SC Lowcountry Chapter of AFP recognizes outstanding achievements by local individuals, foundations and corporate philanthropists who form a vital partnership with nonprofit organizations to ensure the needs of its citizens are being met. For over 20 years, the AFP Lowcountry Chapter has observed National Philanthropy Day to honor the dynamic philanthropic community that has formed to impact every part of our community.