Unless you're a first-time reader, you are likely familiar with our Reverend Pinckney Scholars Program—created in response to the Mother Emanuel Church shooting. This program aims to increase access to higher education for African American students in Beaufort, Charleston, and Jasper counties. Now in its third year and 30 scholars strong, this program's inspiring students continue to excel in the classroom and contribute meaningfully to their communities. Fueled by ambition and the legacy of this program's namesake, their commitment to excellence does not stop when the school year ends.
This back-to-school blog series will allow readers a first-person glimpse into the exciting summer work and travels of our Pinckney Scholars.
From Summer Boyd, Class of 2016 Pinckney Scholar:
For a college student in D.C., and especially one enrolled at American University, it seems that having an unwavering interest in politics is mandatory. Students living in D.C. are expected to live, breathe, and exude politics at every waking moment. I'll admit that sometimes it can be overwhelming. In just one of your government classes there are seven or eight other kids vying for the same coveted political position you hope to hold one day. However, it is at the same time refreshing and inspiring to see a new generation of politically active students learning and working side by side to help better not only our nation, but our world.
Upon the completion of my first year at American University in May, my desire to discover Washington, D.C. in a different light increased more and more each day. Before school officially let out, I decided that I would like to take my first steps into the world of American politics. For me, the best place to start was our Legislative branch. Fast-forward a few weeks later, I walked into the Cannon House Office Building to start my first day as an intern for the Hon. Rep. James E. Clyburn. With years of experience serving the 6th district of South Carolina and holding the prestigious title of 'Third most powerful Democrat in Congress', I was ecstatic to learn what I could from him and his staff. After years and years of following national and international news, I finally got my chance to partake. I left my internship with more than I could have ever hoped for or imagined. I formed lifelong friendships, attended amazing congressional hearings, briefings, and nominations. I had exceptional networking opportunities, and learned so much. However, what I enjoyed most about my summer internship on the hill, was the first-hand look at how big of a role each representative has in the shaping of our nation. It inspired me to work harder and dream bigger to help change the world.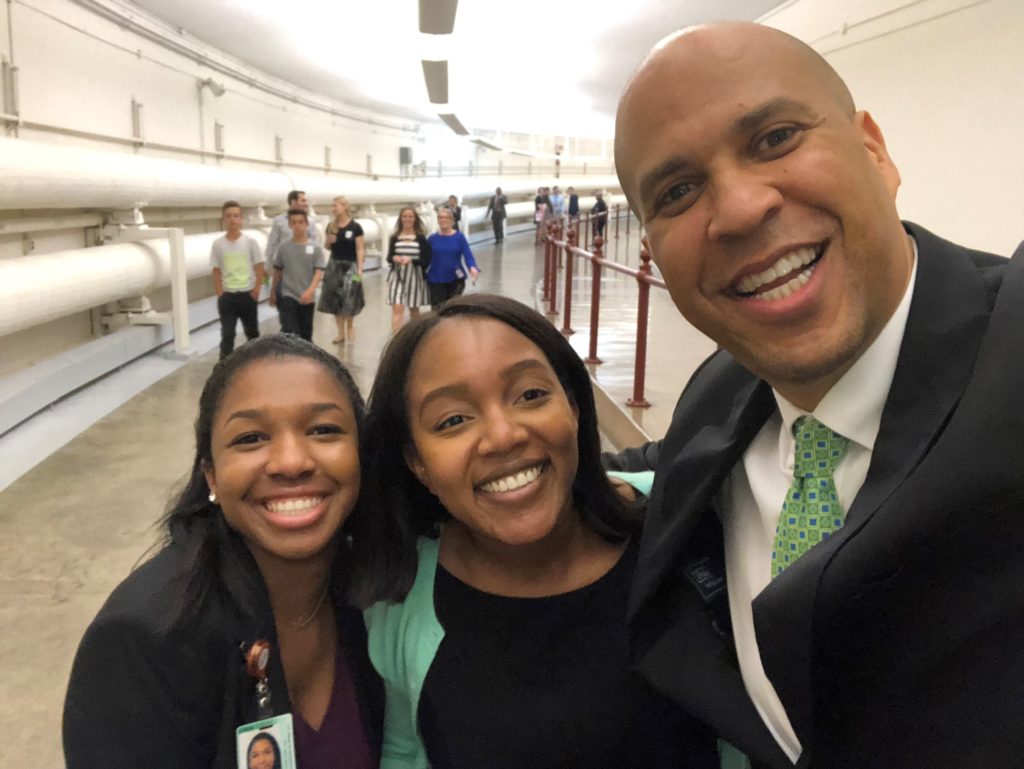 Each day brought new adventures and lessons to be learned. Whether it was exploring the thousands of tunnel routes connecting the buildings on Capitol Hill, writing press releases, meeting the senators and representatives that I look up to, or seeing first-hand how our nation is run. Interning on Capitol Hill provided me with valuable skills that can be applied to all aspects of life. For instance, I learned the importance of bi-partisan cooperation—parallel to the idea of teamwork and cooperation. Especially in today's climate, everything about our politics is very contentious. It's either left or right, black or white. However, when it comes to the well-being of the American people, it cannot be a simple this-or-that. There has to be a willingness to come together and find a middle ground to help create betterment for all. There is no one that I would have rather learned this from than Congressman Clyburn himself. He has dedicated his life to working with people of all backgrounds in order to create the most beneficial legislation and policies that he possibly could to help everyone that he could. It was an honor to spend my time this summer learning all that I could from him and his knowledgeable staff.
Another important aspect that I noticed in my time on the hill was the lack of representation of marginalized groups, as well as, the absolute importance of representation of said groups. This country can be thought of as a salad. Tons of different ingredients mixed into a bowl added at separate times and in varying quantities, but all playing a crucial role in the overall taste of the salad. Each ingredient comes together to make a larger dish and still holds on to its own individuality. Similes aside, this speaks volumes about how our society interacts. With such a diverse country, it is important to have a government that encompasses and represents everyone.
Overall, I couldn't be more grateful for the experience I had this summer. I made so many amazing friends and networking connections. I learned what it takes to keep up in the fast-paced DC politico scene, and I got to explore my new city a little bit more every day. My internship truly solidified my passion for working in government one day. Whether it be as the Speaker of the House, a Senator, the Secretary of State, or whatever else I may choose. I know that I want to help make this country an amazing place for everyone.