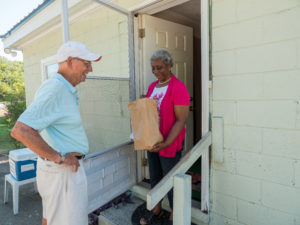 The nonprofits in our region are stepping up for our communities most affected by the COVID-19 outbreak, ensuring people in poverty, the elderly, people facing homelessness, and those with limited access to healthcare have the essential resources they need.
Financial support for these organizations is critical so they can continue this essential work. CCF's grantmaking team is actively working to keep track of all the organizations responding to the COVID-19 outbreak in our region, and we've compiled a list of the nonprofits most likely to need increased support as they respond to evolving needs throughout coastal South Carolina. Donating to any of these organizations is the perfect way to help strengthen your community, even while practicing social distancing.
This list will be continually updated as we receive further information from our nonprofit partners.
A note to nonprofits
If your nonprofit isn't on this list, we encourage you to provide details of how you're responding to the COVID-19 outbreak by filling out the brief COVID-19 Impact Survey here. Regional funders and chambers of commerce are collaborating on this effort to gauge the impact and challenges felt by nonprofit organizations like yours. Our goal is to deepen our understanding of how communities are being affected, while also helping organizations share resources when appropriate.
Please also consider sending photos and updates about your work to newstips@coastalcommunityfoundation.org for CCF distribution through blogs, emails and other content.
Charleston County/Tri-county Area
Barrier Island Fee Medical Clinic – healthcare
Lowcountry Food Bank – food access
East Cooper Community Outreach – food access, healthcare
American Red Cross – emergency
Charleston Area Senior Citizens – food access, shelter
One80 Place – food access, shelter
My Sister's House – food access, shelter
Summerville Meals on Wheels – food access
Berkeley Seniors – food access
Our Lady of Mercy Community Outreach Services, Inc. – food access, clothing, financial services
CHS Jewish Federation/Jewish Family Services – food access, financial
Catholic Charities – food access, disaster relief, basic needs
Salvation Army – utility assistance
ShelterNet – rent assistance
Charleston HALOS – food access, health, rent/utility assistance
Trident United Way – food access
Origin SC – housing, financial assistance
ECCO  Human Needs Charleston – food access, financial assistance, prescriptions
Charleston Promise Neighborhood – healthcare, education
Charleston Blessing Box – food access
Charleston Area Senior Citizens – food access
Charleston Pro Bono Legal Services – legal services
Georgetown County
Caring & Sharing – food access
Smith Medical Clinic – healthcare
Catholic Charities – food access, disaster relief, basic needs (statewide)
Horry County
Faith Outreach Ministries – food access
New Directions – shelter, food access
Shepard's Table – food access
SC Thrive – food access, shelter
Beaufort County
Med-I-Assist – prescriptions
Volunteers in Medicine Clinic – healthcare
Good Neighbor Free Medical Clinic – healthcare
Lowcountry Food Bank – food access
Meals on Wheels-Bluffton, HH – food access
Bluffton Self Help – food pantry, emergency financial assistance
Second Helpings – food access
Access Health – medical
CAPA – child abuse, shelter
BJEOC Human Needs – rent, utilities
Salvation Army – rent, utilities, food access, shelter
Help of Beaufort – food access, financial assistance
Deep Well – food access, rent, utilities
Jasper County Council on Aging – food access
BJH Comprehensive Health – healthcare
Med-I-Assist – prescription assistance
Family Promise of Beaufort – shelter
Catholic Charities – food access, disaster relief, basic needs
LRTA  Transport – transport to doctor's appointment (elderly)
TMSI   Transport– transport to doctor's appointment (Medicaid/Medicare ONLY)
Charleston Blessing Box – food access
Colleton County
Colleton County Council on Aging – food, support
Edisto Indian Free Clinic – healthcare
Safe Haven – shelter
Salvation Army – rent assistance, utilities, food access, shelter
Lowcountry Food Bank – food access
Catholic Charities – food access, disaster relief, basic needs (statewide)
Jasper County
Jasper County Council on Aging – food access, support
Med-I-Assist – prescriptions
Agape Family Life Center – food access, education, basic needs
Jasper County Council on Aging – food access