Coastal Community Foundation is proud to announce Katy Mixon as the 2023 Griffith-Reyburn Lowcountry Artist of the Year. The award supports the creation of new artwork representing the look and feel of the South Carolina Lowcountry's lifestyle, culture, or environment.
Katy Mixon creates "quilted paintings," which are oil paintings made by repurposing the disposable towels she uses to clean her hands and brushes while working in the studio. She sorts, cuts, collages, and quilts the towels onto muslin and embroiders patterns. Locally, her art has been featured in multiple galleries and at the Gibbes Museum.
For the Griffith-Reyburn award, Mixon will create a quilted painting with a greater number of hand-embroidered details. The embroidery will tell the story of Charleston's geologic history over hundreds of millions of years and incorporate drawings of fossils and specimens on display at the Charleston Museum.
The Lowcountry Artist of the Year award was established at Coastal Community Foundation in 2003 by Mike Griffith and Donna Reyburn. The $6,000 grant is intended to cover the artist's living expenses during the creation of the piece.
"This year is the 20th anniversary of the Griffith-Reyburn award," said CCF President and CEO Darrin Goss. "We are proud to work with donors with such long-standing support for local artists. As our 2023 Lowcountry Artist of the Year, Katy Mixon continues the legacy of creating a region rich in culture and creativity."
Mixon said the grant gave her a boost of confidence during a moment of momentum.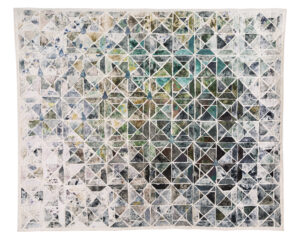 "The grant will give me the time and space to lose myself in the creative process," Mixon said. "I often work with local crafters and quilters to realize some of my larger projects, and the award will help me pay for their labor. The piece that I will be making for the award will require long-arm quilting, and the grant will cover these costs."
In the fall of 2023 Coastal Community Foundation will host an event to unveil the new piece of art. It will remain the personal property of the artist to keep, show or sell at her discretion.  Mixon's past work can be found online here.