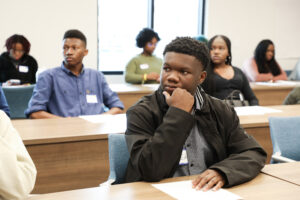 Coastal Community Foundation will award more than $400,000 in scholarships this year. These competitive scholarships are available for more than 120 students pursuing higher education.
Scholarships are open to high school seniors in Berkeley, Charleston, and Dorchester counties attending two- or four-year colleges and universities. Some are awarded specifically based on the student's area of study, academic institution, or place of residence; others are more general. To make the application process easier, students apply online and are automatically matched with the scholarships for which they qualify.
"We are committed to improving access to education in our community," said Director of Grantmaking and Scholarships Caroline Rakar. "Thanks to the generosity of donors, these scholarships give students from all backgrounds a chance to attend institutions of higher learning and prepare for future success."
Applications are open now through March 16. Students applying will be asked to provide personal and financial information, a transcript, letters of recommendation, and answers to supplemental essay questions. See a complete list of scholarships available and apply here.