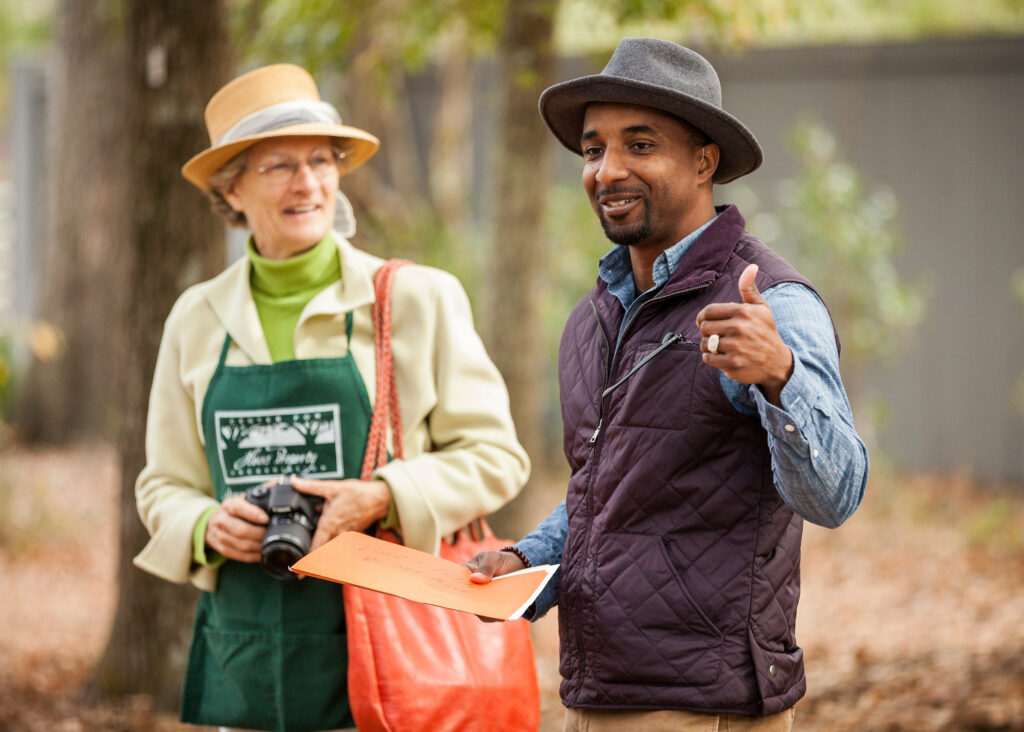 Coastal Community Foundation of South Carolina awarded $685,000 to 37 nonprofit organizations in the Tri-County region that are Black-led and/or Black-serving in an effort funded by Facebook to support innovation, creativity, and resiliency in Black communities.
Research shows that nonprofits that work specifically in Black communities, particularly those led by Black community members, have been historically underserved by grantmaking organizations in America. Coastal Community Foundation was chosen by Facebook for this opportunity because of its intentional work through scholarships, grantmaking, advocacy and internal practices to advance racial equity in coastal South Carolina.
"The Foundation recognizes that we can address historic disparities by making intentional changes in policy, practice, and investment throughout all the foundation's work," said Darrin Goss, President and CEO of Coastal Community Foundation. "The Facebook grant opportunity allows us to invest in leaders and organizations that tend to be more effective in providing services and support within their own communities based on trust and cultural understanding. Supporting Black leaders to do more of the good they're already doing is a step forward, and we are grateful for corporate funders like Facebook who are investing in it. We hope to see others regionally and nationally step in to do the same."
With an average of about $18,500 awarded to each nonprofit, CCF's Facebook Grant for Sustaining Black Communities supported ongoing work across a broad spectrum of nonprofits in the areas of arts, culture and humanities; civil rights, social action and advocacy; community improvement and capacity building; education and human services. About three-quarters of the funding supported Black-led organizations, while the remainder supported organizations serving populations that are at least 51% Black.
Coastal Community Foundation prioritized applications from Black-led nonprofits, which are defined as groups with 2 of the 3 criteria: (1), At least 51% of the Board of Directors identifies as Black; (2), The organization's Executive Director or equivalent identifies as Black; (3), At least 51% of the organization's Leadership Team (senior management level) identifies as Black.
In addition to the financial resources, CCF will offer support to help these grantees build their capacity in order to seek new and sustainable funding.
The scope of issues our nonprofit grantees address through their work is diverse. From providing basic needs to working to help close the digital divide, each nonprofit organization works to positively impact communities in the Tri-County region. Here are a few of the nonprofit grantees that we are proud to support through the Facebook Grant for Sustaining Black Communities, followed by the full list of all recipients.
Yo Art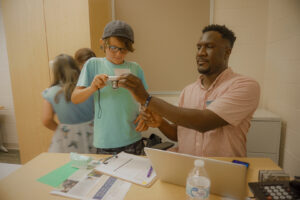 Yo Art works with students to help close the digital divide in the Lowcountry, enhancing everyday classroom curriculum with media arts programs designed to spark students' curiosity and teach real-world skills. The organization was awarded $10,000 to assist in the planning and implementation of its 12-week photography, filmmaking, coding, fashion, graphic, and landscape design programs for the spring and fall semesters of the 2021-22 and 2022-23 school years. In addition, the funding will help successfully plan and implement new online platforms and resources.
"Yo Art's programming promotes career-training while enhancing South Carolina core curriculum standards through multi-level learning, and our programs have been shown to reinforce cognitive skills and pique student's interest in future career paths they otherwise may have not considered — that also lack diversity," said Greg Colleton, Executive Director of Yo Art. "Yo Art strives to even the technological playing field in Lowcountry students' education and hopes to help diversify the talent pool feeding the workforce."
Youth Empowerment Services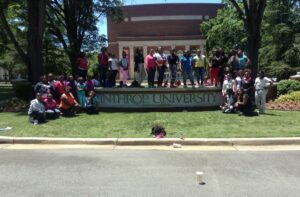 Youth Empowerment Services, serving Berkeley, Charleston, and Dorchester counties, received $15,000 to support transitioning its Worth Beyond Measure Mentoring Program to a virtual platform due to the COVID-19 pandemic. The Worth Beyond Measure Program will serve 30 girls residing in the Tri-County region, targeting those in group homes, foster care, and living in under-served communities with low-performing school systems. With the funding, Y.E.S. will have the ability to plan monthly empowerment and leadership sessions as well as interactive, motivational activities to keep the girls engaged with the virtual programming. In addition to the programming, the funds will assist in hiring a marketing and fund-raising consultant to help raise funds, engage stakeholders and partners, and increase exposure for the program.
"Over the years, we have served over 3,000 girls. Our programs and activities support innovation, creativity, and resiliency in Black girls because we purposely plan culturally sensitive programs and activities that are relevant, thought-provoking and life-changing," said Roslin Fields, Executive Director of Youth Empowerment Services. "We meet the girls where they are in life and help them set positive goals and learn essential life skills."
Community Resource Center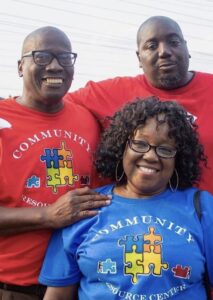 Community Resource Center, offering various programs to support community needs in the Tri-County region, was awarded $10,000 to help support previously implemented programs such as its Fresh Fruit and Vegetables Giveaway, Diaper Bank, Food Bank, and more. The funding will help supplement the decrease in donations the organization received due to the COVID-19 pandemic, helping provide basic needs and fight hunger in Black communities.
"Our mission is to help the community one person and one resource at a time," said Louis L. Smith, Executive Director of Community Resource Center. "This grant will increase our impact on the many disadvantaged citizens from the food desert in North Charleston, Historic Charleston, the rural areas of Dorchester County, the Gullah Geechee islands of James Island, Wadmalaw Island and Yonges Island, and the historic areas from Mount Pleasant to Awendaw, working to eliminate systemic problems in the community."
Charleston Area Justice Ministry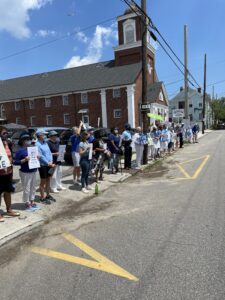 Charleston Area Justice Ministry — a growing network of 38 culturally, economically, geographically, and religiously diverse congregations and community organizations — was awarded $30,000 to aid in the network's expansion. The expansion includes the hiring of one additional full-time Organizer in 2021 and the ongoing implementation of the three processes of justice — listening, research-to-action, and investment. Organizers are essential for successful growth, working to recruit new congregations in Charleston and Berkeley counties.
"Energized network members build a culture of justice focused on giving life meaning through relationships of abundance, hope, promise, and community. Justice Culture embraces duty, civic responsibility, the common good, and the long-term interest of everyone," said Treva Williams, Lead Organizer of Charleston Area Justice Ministry. "Together, organized people in the CAJM network work to fix the public decisions that produce inequity and change political systems to be equitable for all, especially for vulnerable children and adults."
All recipients of the Facebook Grant for Sustaining Black Communities
Arts/Culture/Humanities — $62,250 awarded
Avery Research Center of the College of Charleston
Friends of the Charleston County Library/Black Ink Book Festival
Charleston (SC) Chapter, The Links, Incorporated
MOJA Arts Festival, produced by City of Charleston Office of Cultural Affairs
Civil Rights/Social Action/Advocacy — $92,000 awarded
Fresh Future Farm Inc
Charleston RISE
Charleston Area Justice Ministry
Turning Leaf
Community Improvement/Capacity Building — $157,000 awarded
Lowcountry Youth Services
Dorchester County First Steps
Center for Heirs' Property Preservation
Lowcountry Alliance for Model Communities (LAMC)
Carolinas-Virginia Minority Supplier Development Council
The Medi Community Resource Center
Community Resource Center
Charleston Habitat for Humanity (Liberty Hill Community Residents)
Education — $188,500 awarded
E3 Educate, Empower, Elevate
Teachers' Supply Closet
Charleston Promise Neighborhood
 Charleston Development Academy
Charleston County First Steps
Ebony City Soccer Club and Youth Development Program
Youth Empowerment Services
Seventh Day Baptist Community Development
Charleston Youth Leadership Council Beaux Affair Program
Trident Literacy Association
Yo Art, Inc.
Human Services — $185,250 awarded
South Santee Senior and Community Center
Feeding of the Multitudes
Father to Father Inc.
Increasing HOPE Financial Training Center
Dress for Success of Charleston County
My Sister's House
Big Brothers Big Sisters of the Lowcountry
Habitat for Humanity of Berkeley County
Operation Home
East Cooper Community Outreach
Other support
Funds from the $1 million Facebook grant also supported these four specific initiatives aimed at racial equity:
The Lowcountry Unity Fund of Coastal Community Foundation — a grantmaking program established after the Emanuel AME Church massacre that supports efforts in Berkeley, Charleston and Dorchester counties that advance racial equity or that address structural racism.
The N.E.W. (Neighborhoods Energized to Win) Fund of Coastal Community Foundation — a grantmaking program created in 1991 to support low-to-moderate income neighborhood groups in the Lowcountry that address key issues in the neighborhoods and strengthen residents' leadership skills.
Institutional support for Black-led nonprofits — collaborate on a new targeted effort with regional institutions aimed at capacity-building and lending structural support to organizations and grassroots efforts led by people of color.
Black Giving Circle — seed funding to create an endowed fund at Coastal Community Foundation for Black-led giving.