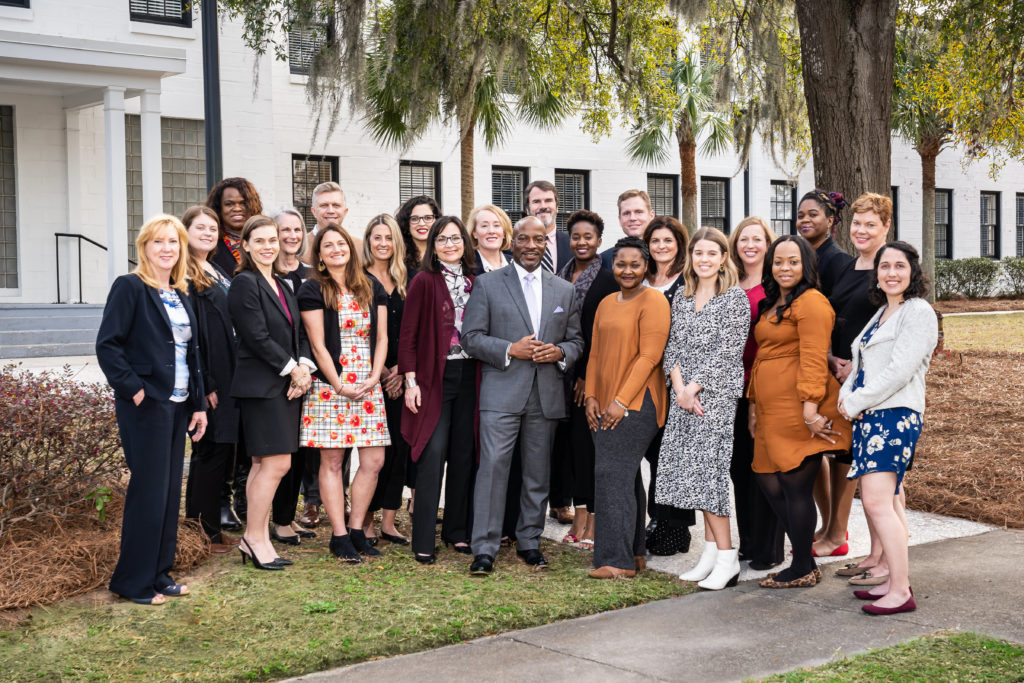 Mention the year 2015, and many in our region will flash back to the pain of the Emanuel AME massacre. As we've written before, it was the most tragic experience many of us in South Carolina have ever collectively shared in our lifetimes.
For Coastal Community Foundation, it became the pivot point for our work. We understood that we had a role to play in leading our communities forward, to create a region that is equitable and rich with opportunities for everyone. We understood that the journey would stretch on for years to come, and that it had to begin with an honest rethinking of every facet of our work.
In five years, we've come a long way toward our goals, and the work continues daily to embed inclusion with equity in all that we do.
Here, we revisit eight of the initiatives and mindsets we've embraced on this journey over the past five years. The progress we've made would not have been possible without the support of our Board of Directors — which committed to this vision early on — or without the leadership of our President & CEO Darrin Goss, who will mark his five-year anniversary with the Foundation in February.
Inclusion with Equity
The Foundation adopted a diversity, equity, and inclusion policy in 2016 that has touched every facet of our organization, including the ways in which we invest wealth.
Today, we have more equitable processes across our grantmaking programs, procurement and hiring policies. We have a more diverse Board of Directors, staff and leadership team — who are now required to attend two-day Racial Equity Institute training.
We've used our voices and resources to identify systemic issues and inequities burdening our region. Recently, this led Facebook to select CCF to receive $1 million for grantmaking supporting Black communities and Black-led nonprofits in the Tri-County region.
Civic Engagement Agenda
Since 2017, we have conducted more than a thousand listening sessions across our nine-county service area to identify the common hopes, challenges, and aspirations permeating daily life in this region. The input was validated with research conducted by USC Upstate's Metropolitan Studies Institute, which was reported in 2018 in our Civic Engagement Agenda. It crystallizes the systemic issues facing our communities and serves as a framework to guide how we work as community leaders, particularly through advocacy.
The Board of Directors prioritized three themes that emerged in this effort: Affordable Places & Inclusive Spaces, Access to Economic Opportunity and Education. The CEA also recognizes that to achieve community-wide success on these or any other issues, we must remove the imbalances and systemic racial barriers that keep us separate and inequitable.
Embracing our voice
In 2020, we added advocacy to our toolbox with the launch of our first-ever Policy Agenda as an additional way to address the issues identified in our CEA.
With the Policy Agenda, we're able to enhance the work of our grantmaking, investment and scholarship programs. So far, the work has included standing with the Phillips community —one of our N.E.W. Fund grantees — in opposing the proposed approach of expanding Highway 41 through heirs' property, as well as publishing a white paper detailing why Schools of Innovation can advance equitable education in South Carolina.
Emergency funding
CCF has long served the community in times of need — in the wake of natural disasters, or other events that cause widespread instability.
The Lowcountry Disaster Relief Fund, originally formed after Hurricane Florence devastated Horry and Georgetown counties in 2018, helps assists longer term recovery efforts as well as immediate relief efforts in communities impacted by floods and hurricanes.
Following a similar approach in the face of the COVID-19 pandemic, CCF launched the COVID-19 Relief & Recovery Fund in March to receive charitable donations and support communities disproportionately impacted. The fund, which has now awarded more than $1 million, continues to offer needed economic relief to organizations across our footprint.
New building, new brand
Alongside our program achievements, due to the generosity of donors Frank and Kristi Haygood, we were able to expand and move into our new, permanent headquarters last year at 1691 Turnbull Avenue in North Charleston.
With this new home came the launch of our new brand and identity, where we set out to retain who we have always been as an organization, while also adding elements that reflect how we have evolved in these past few years.
Place-based impact investing
CCF launched its Place-Based Impact Investing initiative in 2018 to invest in businesses and nonprofit programs that achieve measurable financial returns as well as positive, social impacts.
With this new venture, we were able to help Palmetto Project launch the InsureSC program in the fall of 2018 to assist South Carolinians in signing up for health insurance. In March of 2020, when COVID took a massive toll on economy, InsureSC was also able to help laid-off workers apply for unemployment benefits.
Launch of & first graduating class of Rev. Pinckney Scholars
The Rev. Pinckney Scholarship Program was launched at Coastal Community Foundation in 2016 by anonymous donors in the wake of the Emanuel AME tragedy. While the program wasn't meant to right the wrongs committed that day at Mother Emanuel, it carved a new space for young black students to be supported and celebrated by their community as they pursued their passions, from art to social justice to medical science. In 2018, the donors supported the addition of the College Readiness program in 2018, which allowed CCF to begin working with students in their junior year of high school to prepare them for selecting which college is right for them.
This year, we had the honor of seeing the first class of the Rev. Pinckney Scholars graduate from college, many of whom were first-generation college graduates.
Passing Gear Philanthropy
CCF has worked hard to become a Passing Gear Philanthropy foundation, focused on reading reality truthfully and taking action responsibility. Passing Gear is an approach that prioritizes addressing the history and origin of today's disparities and seeks ways to deploy all forms of capital to address them.
This year, CCF had the pleasure of being awarded the inaugural Truist Promise Award by the Southeastern Council of Foundations and the Truist Foundation — which recognized the immense progress the Foundation has made into a Passing Gear Philanthropy foundation as well as our work on the health, economic, and racial crises our nation is currently facing.
Moving forward
Amid these programmatic efforts, we also have significantly increased our resources to expand our investments in our communities.
In the past five years, cumulative contributions to Coastal Community Foundation have grown by 100 percent. With this influx, our assets grew by 64 percent, with combined assets now at $295 million. Annual grantmaking and scholarship awards, meanwhile, has increased by 78 percent in this same timeframe, topping $23 million in the fiscal year ending June 30, 2020.
As we move into the new year, we recognize the progress we have made so far positions us to be even bolder in our actions to create a more equitable future for Lowcountry of South Carolina.
With the generosity of our donors, guidance and leadership of the Board, and staff, we are confident that we will continue to build a more vibrant community for all.