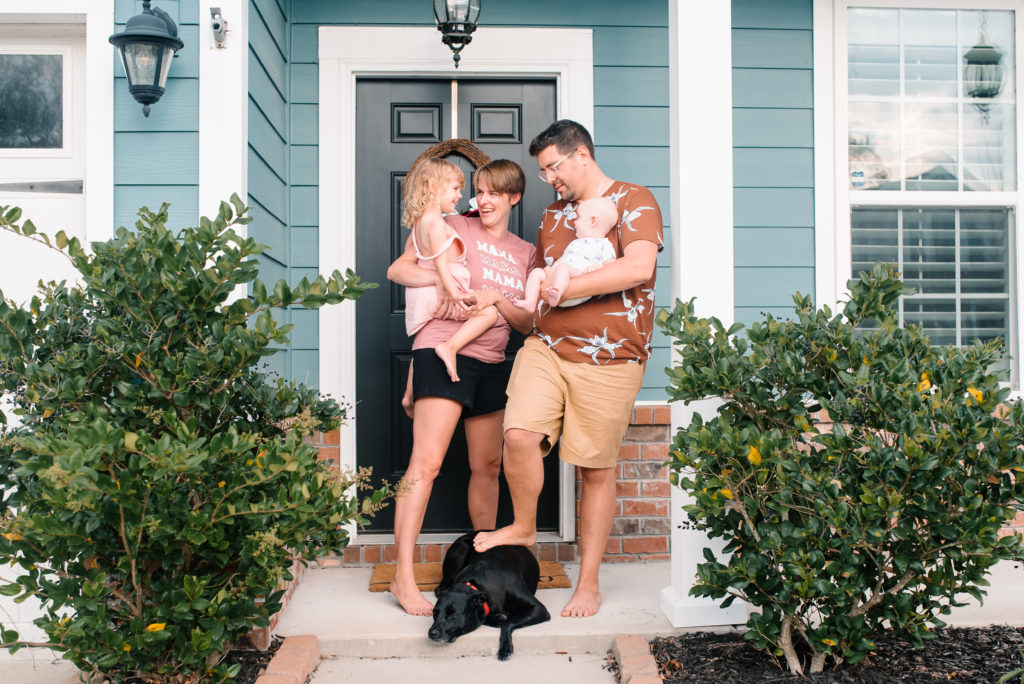 Across our nine-county service area in coastal South Carolina, neighbors are finding all kinds of ways to help their neighbors from afar. Many of them are choosing to do so by contributing to our COVID-19 Relief & Recovery Fund, which supports nonprofits serving residents most affected by the crisis. One Charleston photographer in particular, however, caught our attention for her creative way of helping her neighbors feel a little more connected during this time of isolation, while also helping to raise money for our recovery fund.
Kayla White, founder of Kayla Rochelle Photography, specializes in family portraits, and thrives on capturing what makes each family unique. About a month ago, when social distancing guidelines were issued, Kayla found a way to keep capturing the uniqueness of families by doing curbside portraits of her neighbors on their front porches in her Charleston neighborhood.
In exchange for copies of the professional photos, she's asking the families to consider donating to the COVID-19 Relief & Recovery Fund of Coastal Community Foundation.
We caught up with Kayla over email to thank her profusely for helping our fundraising efforts after seeing her posts on Instagram (If you haven't heard, we're trying to raise $1 million by April 20) and we were able to learn a little bit more about her process and what made this photo project so special.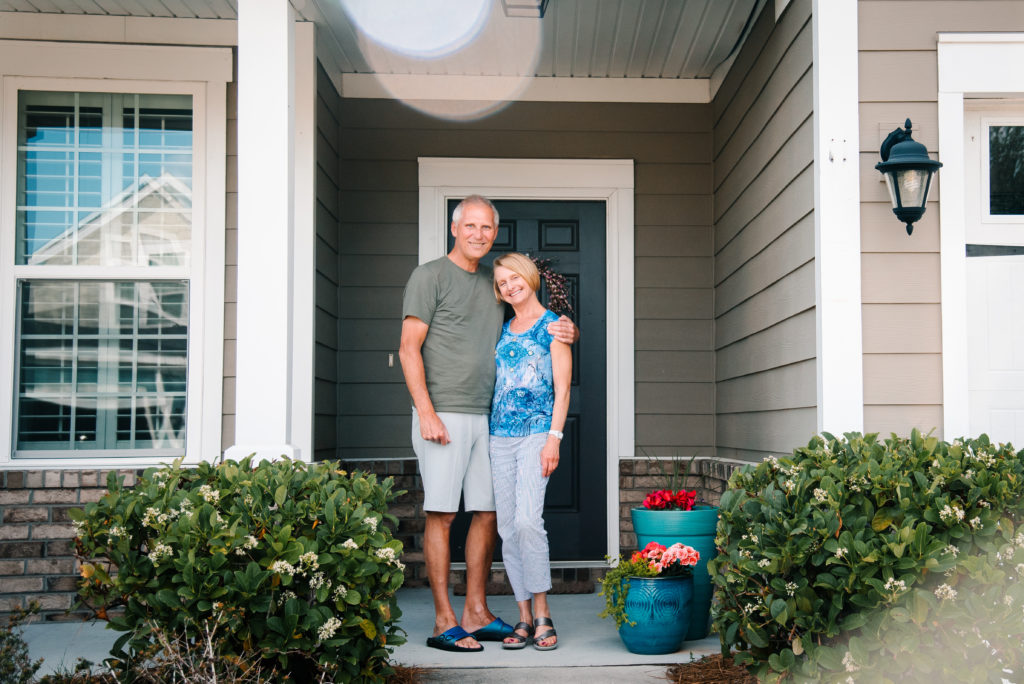 Tell us about this photo series you decided to do during this quarantine. What inspired you to do this?
The Front Steps Project was the brainchild of Cara Soulia, a photographer from Needham, Mass. She started offering the 'extreme mini sessions' to her neighbors and the idea took off. Now photographers across the country have joined her. The idea is that a family receives a free photo session, photographed from the curb in front of their home in exchange for the family's good faith donation to a particular organization.
My family is adhering strongly to the suggested guidelines for social distancing, and we rarely have left the house since the Coronavirus started to spread in the United States. But reading about this project, I just knew I wanted to participate.
I saw joining this project as a way I could give back in two ways, first in gathering donations for Coast Community Foundation that could directly impact COVID-19 relief and by passing along a few moments of lightheartedness and smiles with my photos.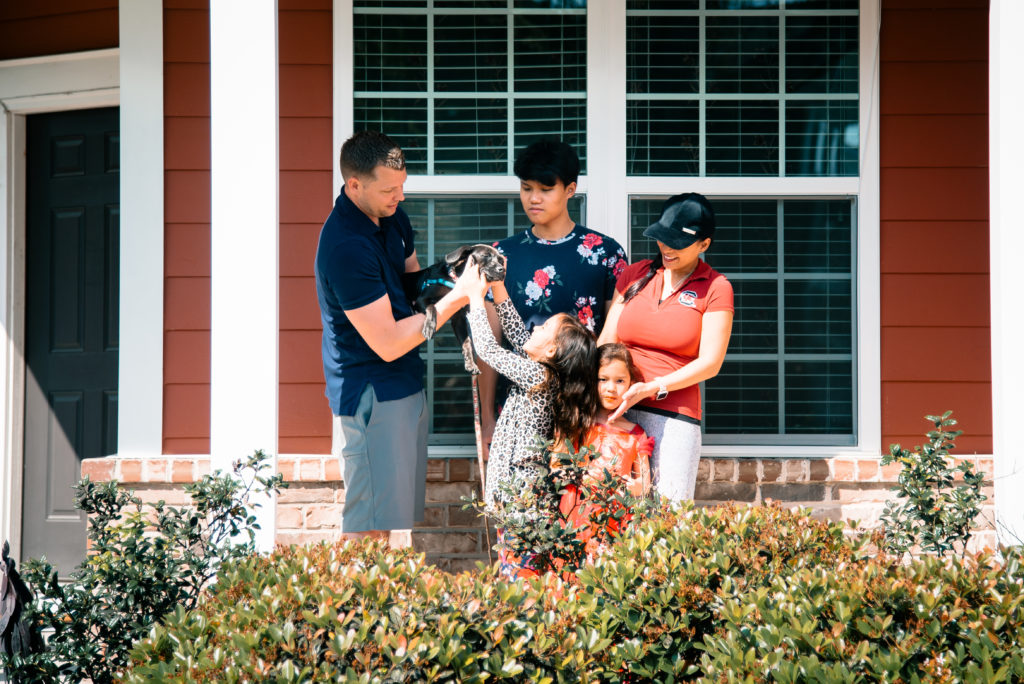 How many front porch shoots have you done so far?
So far I've gotten the opportunity to photograph and meet 13 neighbors!
How did you hear about the COVID-19 Relief & Recovery Fund of Coastal Community Foundation, and what inspired you to direct donations to it?
When it came time to choose which organization I wanted to ask my neighbors to donate to I spent a bit of time doing some online research. It's so hard to know what the impact of all of these temporary shut down will have. We all know how our lives have changed in the immediate but no-one can predict what things will be affected in 3, 6 or 12 months from now. I wanted to be sure and locate an organization that would provide assistance in our communities for the long term.
What's different about this process than the way you typically shoot portraits?
My favorite part of working with a family is getting a chance to really get to know the thread of the family. I love being able to see the small connections a family has in the way they hold onto each other, and the way their eyes light up when someone recalls a favorite memory. Those little moments are what make a family unique and to me being able to capture those moments are what make a session so important. … Capturing that feeling takes a bit of time. A typical session lasts 45-60 minutes and it allows an opportunity for me to ask questions, and observe the family's interactions.
With keeping to social distancing guidelines, and with the shortened time frame these sessions are more about my ability to capture a family as they currently are in this exact moment. I pull up to the front of their house and since they know to be on the look out for me they're already waiting. I can jump out of my car without turning the engine off, give a few simple instructions from the curb and be back in the car within minutes.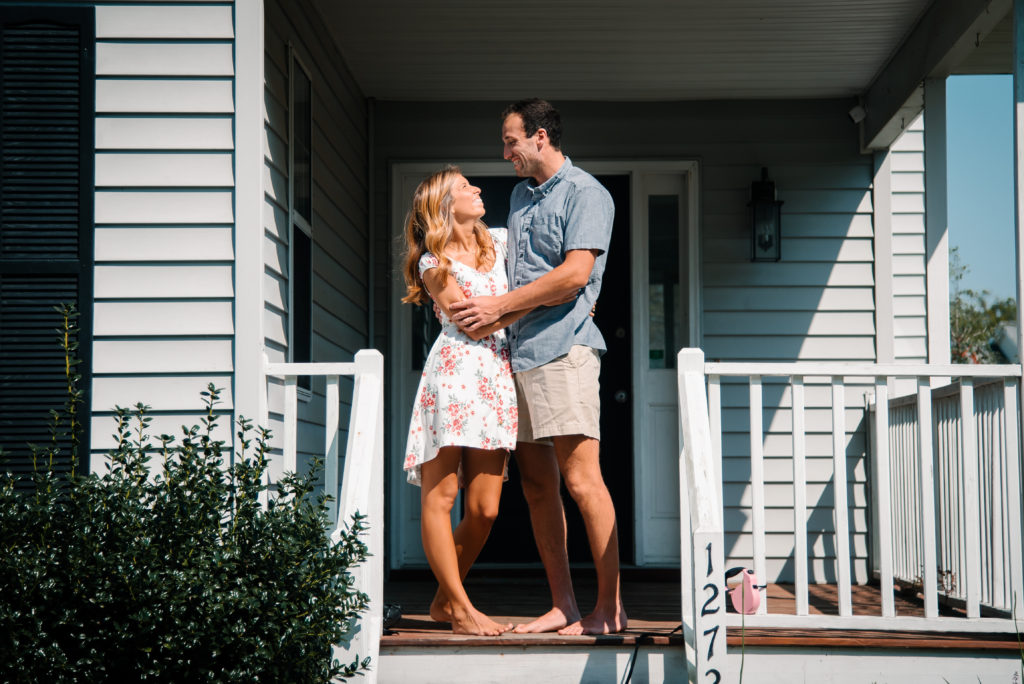 Does that different process change what you're able to capture?
My goal for these photos creatively is to be able to capture the people you're spending all your time with, in the place you're now spending all of your time.
Any words of encouragement for other creatives stuck at home right now?
Things feel so heavy right now, don't they? I've often found that on my hardest days, picking up my camera can give me a few minutes of mental realignment. When my mind is focused on creating an awesome photo, I'm temporarily stopping the loud internal sounds from a bad day. Sometimes those five minutes of being creative is all it takes to change a rough day into a good one.
I want my personal work to reflect our real lives, which means I often take self portraits when I'm wearing no makeup, and photograph my kids when they are crying as often as when they are laughing. Years from now, I know my daughters will be studying about this moment in time in history at school, and I want to be able to not only tell them what it was like to live through it, but to show them with my photographs just how 'normal' our not so normal days were.