Reverend Pinckney College Readiness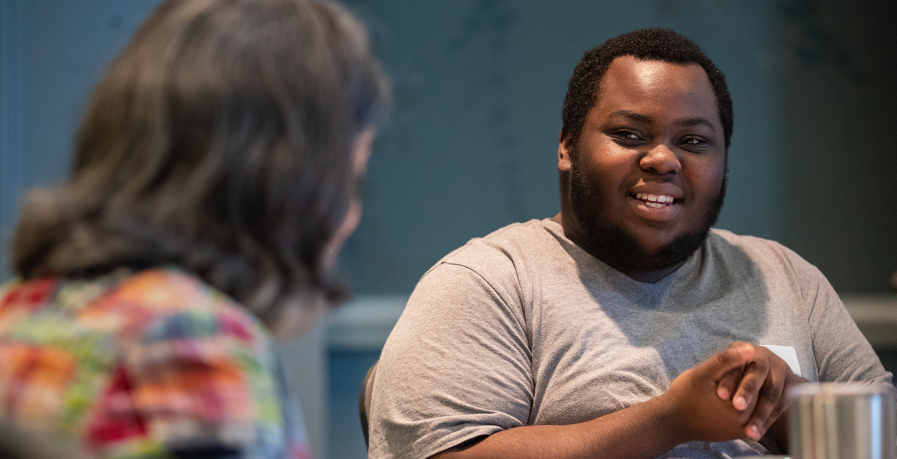 The Reverend Pinckney College Readiness Program offers high school students in Beaufort,  Charleston, Colleton, Hampton and Jasper counties tailored support and resources throughout the college application process to help them prepare for, research, evaluate and ultimately select which college is right for them. The anonymous donors who started the Reverend Pinckney Scholarship Program at Coastal Community Foundation established College Readiness as an 18-month prerequisite program to help ensure students' success leading up to, during and after college. Those who complete the College Readiness Program are eligible to apply for the Reverend Pinckney Scholarship Program in the second semester of their senior years of high school.
The College Readiness Program works specifically with African-American students to help close the equity gaps in South Carolina schools. Research shows that although more black students than ever are attending four-year colleges, less than half of them are graduating — a much lower graduation rate than their white and Asian peers. Education experts often attribute this to the fact that black students in South Carolina are more likely than white students to attend high schools with substandard curriculum, leaving them less prepared for the challenging coursework in college. The College Readiness program aims to reverse these trends.
"CCF's College Readiness Program has been a tremendously helpful guide through this process on the road to college. They have (gone) above and beyond to provide guidance for applying for college, understanding the financial aspects of college and everything in between."
— Ebonie White, graduate of the program's first class.
About the program
At Coastal Community Foundation, our in-house college access specialists, Sabrina Prioleau and Cassandra Stafford,  provide personalized support and guidance to students and their families. Students are coached on preparing for ACT/SAT tests, writing college essays, seeking and obtaining financial aid and scholarships and filling out FAFSA forms. They are offered advice and counseling from college enrollment specialists and visit college campuses with their peers in the program. While it involves rigorous and consistent coaching, the program is designed with flexibility in mind to accommodate students' activities, work and personal obligations.
The College Readiness Program incorporates four main areas of focus:
College entrance exam preparation
Students take diagnostic ACT and SAT exams, decide on one test to study for, and receive test preparation.
College exposure and application
Workshops and one-on-one meetings with the program instructor about college research, college tours, as well as information about and application to fly-ins and summer enrichment programs.
Students research colleges and apply to at least five schools.
Financial Aid and Scholarships
We hold family workshops and provide individual assistance with FAFSA and other financial aid applications, as well as scholarship recommendations and assistance.
Career and Soft Skills Training
Workshops and counseling regarding resume building, interview skills and etiquette, time management and study skills, and budgeting
Dreams are meant to be chased.
CCF's College Readiness Program places a great emphasis on ensuring students are well-aware of the options available to them.
Students are consistently encouraged to take advantage of their personal strengths, and to make decisions about college based on their dreams and aspirations first and foremost. Along the way, they gain instrumental real-world skills to ensure their success in college and beyond.
We call our students Visionaries.
This program is named after the late Rev. Clementa Pinckney, who embodied what it meant to be a visionary leader. Our Visionaries, likewise, are encouraged to fearlessly pursue their dreams and embrace opportunities to serve others in their schools and communities.
Students accepted into the program are expected to:
Be committed to attending and graduating from college.
Be a good citizen at school and in the community.
Be motivated, intellectually curious and to take advantage of opportunities.
Keep appointments, meet deadlines, and be responsive to all staff communications.
Criteria for eligibility:
Students who meet the following criteria are eligible to apply the fall of their junior years of High School:
African American
Permanent residents of Beaufort, Charleston, Colleton, Hampton or Jasper County
Have an unweighted GPA of at least 2.5
Taking courses to prepare for academic success during and after college
Planning to attend a two-year or four-year college upon graduation
Eligible for a Pell Grant (We will help determine this).
Application process and schedule:
Selection criteria include, but are not limited to, substantial financial need, academic performance and letters of recommendation. The selection committee will look for character traits and aspirations in applicants that will serve as a fitting legacy to the life of Rev. Clementa C. Pinckney.
Applications are accepted in the fall semester of students' junior year of high school, and selections are announced in December. Up to 40 students are selected each year. Students who meet the criteria can apply beginning in September by visiting this link. Please create an account to access our online application system. The deadline to apply is typically in mid-October.
For High School Counselors & Teachers
Through this program, we aim to support the work you do every day in your high schools to put bright students on the path to higher education. If you have students in mind who meet the following criteria, please encourage them or their parents to consider applying:
African American students in their junior year of high school
Permanent residents of Beaufort, Charleston, Colleton, Hampton or Jasper County
Students planning to attend a two-year or four-year college upon graduation
Unweighted GPA of at least 2.5 and have taken a college-prep curriculum
We are especially interested in supporting students who are motivated, intellectually curious, and who take advantage of opportunities. If you have any questions, please email Sabrina Prioleau at sabrina@coastalcommunityfoundation.org for Charleston County or Cassandra Stafford at cassandra@coastalcommunityfoundation.org for Beaufort, Colleton, Hampton or Jasper counties.